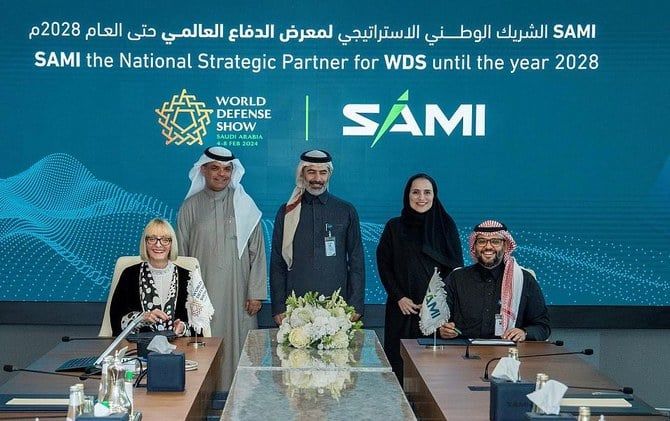 World Defense Show reaffirms strategic partnership with SAMI until 2028  
The World Defense Show, which will be held on Feb. 4-8, 2024, has extended its partnership with Saudi Arabian Military Industries as its National Strategic Partner for the event's next three editions.
Following the successful inaugural edition in 2022 that saw SR29.7 billion ($7.916 million) worth of deals being signed, the second edition will be held next year, with an aim to provide a platform to exchange knowledge and technology for local and international firms operating in the defense sector.

According to a press release, SAMI's objectives are aligned with the World Defense Show's efforts to support localizing more than 50 percent of its defense spending by 2030, as outlined in the Saudi Vision 2030.

SAMI, fully owned by Saudi Arabia's Public Wealth Fund, will also leverage the platform provided by WDS to demonstrate Saudi Arabia's defense capabilities to an audience of key local and global industry stakeholders.

"The continued partnership with WDS establishes avenues for collaboration across the global defense sector as the Kingdom bolsters local capabilities and scales up local capacities," said SAMI's Chief Communication and Support Services Officer Wael Al-Sarhan.

He added: "This positions the show as the ideal platform to connect this growing sector with market leaders from across the world, and create opportunities to collaborate, transfer technology and knowledge, create jobs and attract foreign investment with GAMI (General Authority for Military Industries) orchestrating all of these initiatives and efforts."

Chief Commercial Officer of WDS Amanda Stainer said that the partnership with SAMI will support "the show's focus on the future of technology and innovation across all domains to the international defense community."

She added: "As a platform, WDS is here to connect SMEs (small and medium-sized enterprises) to primes, countries to regions, and regions to global markets – driving forward the commercial and strategic benefits that collaboration brings and offering integrated solutions for the entire ecosystem."

The inaugural edition of WDS in 2022 was highly successful, as it attracted 600 exhibitors, over 100 military delegations, and 85 participating countries and witnessed an attendance of more than 65,000 visitors overall.