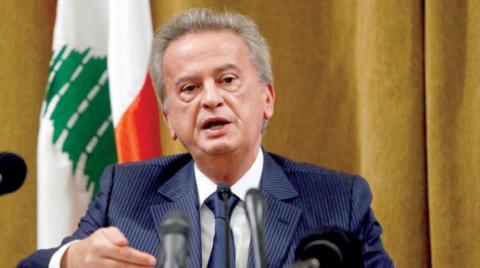 Washington Denies Imposing Sanctions on Lebanon's Central Bank Governor
The US State Department denied on Saturday that it was considering imposing sanctions on Lebanon's central bank governor Riad Salameh.
"We have seen these rumors, and while we generally are not discussing any possible sanctions, I can confirm that these rumors are not based on facts," a US State Department spokesperson said, in an email to Asharq Al-Awsat.

News emerged in Lebanon about the possibility of the US Treasury Department imposing sanctions on Salameh for his involvement in "covering Hezbollah's financial activities."

While the State Department slammed these rumors as inaccurate, US sources said that issuing this type of decision is completely unlikely, at least at this stage, regardless of whether the accusations were true or false.

US officials reportedly said that dealing with Salameh cannot be isolated from addressing the overall crisis in Lebanon.

Lebanon still needs to elect a new president, reconfigure its political powers, and develop economic, financial, and monetary reforms to curb the decay of its financial and banking systems.

The officials added that Hezbollah's exploitation of the Lebanese banking system to launder its money is a well-known matter and that US administrations, both Republican and Democratic, have always tried to put an end to it.

Hezbollah claims that it has succeeded in establishing its own banking and monetary system away from the Lebanese banking system, but reality begs to differ. The Iran-backed group's claims are chiefly geared towards dodging US sanctions.

No matter how successful Hezbollah is in establishing a wide network of "money changers" and claiming that it is the party bringing dollars into the country, in the end it cannot dispense with the Lebanese banking system to launder its money.

For the time being, many are awaiting a new equation to be introduced considering regional and international movements attempting to address the dire Lebanese banking and monetary situation.

Observers are talking about acquisitions and mergers of major Lebanese banks, funded by some Gulf countries.

On the other hand, some believe that what is happening now is nothing less than a revision of the entire economic and political system that has governed the country since its founding. This system is based on a partnership between the traditional political class and the service-financial bourgeoisie.

Some are ruling out the US government issuing sanctions against Salameh, because doing so would destroy the credibility and legitimacy of any Lebanese banking institution, especially at a time when Washington is trying to maintain a minimum level of continuity of government institutions before any new settlement matures.