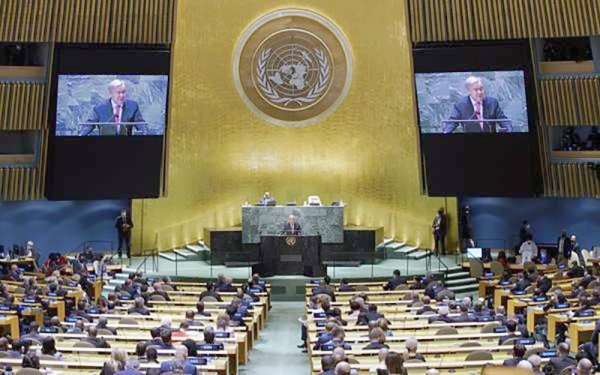 UN votes in favor of a resolution calling on ICJ to give an opinion on Israeli occupation
The United Nations General Assembly passed a resolution early this morning calling on the International Court of Justice (ICJ) to give an advisory opinion on the consequences of the Israeli occupation of the Palestinian territories.
The General Assembly voted 87 in favor to 26 opposed, with 53 countries abstaining.

Speaking at the end of the vote, Palestine's Permanent Observer to the UN, Riyad Mansour, thanked the countries that supported the resolution, which included all the Arab and Islamic countries, Russia and China.

"With that vote, the United Nations had requested an advisory opinion from the International Court of Justice on the violation of the Palestinian people's right to self-determination, occupation, settlement, and annexation, which came one day after the formation of the Israeli government, whose top on its agenda is settlement expansion," said Mansour.

"We are confident that you will support the Court's advisory opinion when it is issued if you believe in international legitimacy and international law," he added.

Israel, the US and 24 other members – including the United Kingdom and Germany – voted against the resolution, while France was among the 53 nations that abstained.

The Hague-based ICJ, also known as the World Court, is the top UN court dealing with disputes between states. Its rulings are binding, though the ICJ has no power to enforce them.

Palestinian leaders on Saturday welcomed the vote, with senior official Hussein Al-Sheikh saying it "reflects the victory of Palestinian diplomacy".

"The time has come for Israel to be a state subject to law, and to be held accountable for its ongoing crimes against our people," said Nabil Abu Rudeineh, spokesman for Palestinian Authority President Mahmoud Abbas.

Mansour noted that the vote came one day after the swearing-in of a new far-right Israeli government, which he said promises an expansion of illegal Jewish settlements and will accelerate "colonial and racist policies" towards Palestinians.

He also hailed nations that voted in favor of the resolution and were "undeterred by threats and pressure".