Saudi Arabia's Foreign Minister Prince Faisal bin Farhan held talks with a number of Brazilian ministers during his first official visit to the country.
Prince Faisal arrived at Brasilia Air Force Base airport on Thursday, the Kingdom's foreign ministry announced.

The talks were headed by Brazilian Foreign Minister Carlos Alberto Franca, and Minister of Mines and Energy Bento Costa Lima Leite de Albuquerque, Minister of Tourism Gilson Machado Neto and the Secretary for Strategic Affairs Admiral Flavio Rocha also attended the meeting.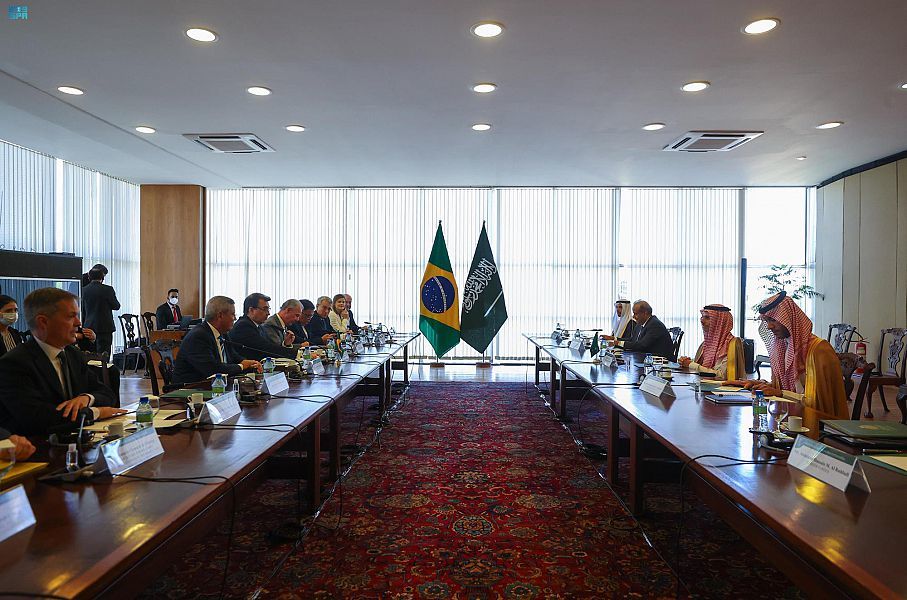 Saudi Arabia's foreign minister meets with Brazilian ministers of foreign affairs, mines and energy, tourism, and secretary for strategic affairs.
"They reviewed Saudi-Brazilian relations and ways to strengthen them toward a closer partnership in various fields, and the importance of intensifying joint bilateral work on regional and international issues," the foreign ministry said.

Prince Faisal met separately with his Brazilian counterpart where they stressed the need to intensify joint work on regional and international issues that serve the interests of their two countries, including efforts aimed at preventing Iran from acquiring nuclear weapons, clearing the Middle East of weapons of mass destruction, and cooperating to combat terrorism, the ministry said.

They also discussed the role of both countries "in laying the foundations for regional and international security and stability," including the Kingdom's initiative to end the Yemeni crisis and reach a comprehensive political solution.

The talks also discussed aspects of cooperation in energy and developing investments between the two countries, especially in light of the Kingdom's Vision 2030.

The two foreign ministers also held a joint press conference following their talks, where Prince Faisal said in the last few years, relations have witnessed "a remarkable development in the political, economic, investment, cultural and other fields," and that both countries' leaderships were keen to deepen these ties.
The Brazilian minister praised the Kingdom's Vision 2030 and the huge regional and international investment opportunities it offers, as well as the Saudi and Middle East green initiatives.

During his visit, Prince Faisal also met with Arthur Lira, the president of the Brazilian Chamber of Deputies, at the National Congress headquarters, where he toured the parliament and signed the honorary visitor record book. He wished more progress and prosperity for Brazil and its people.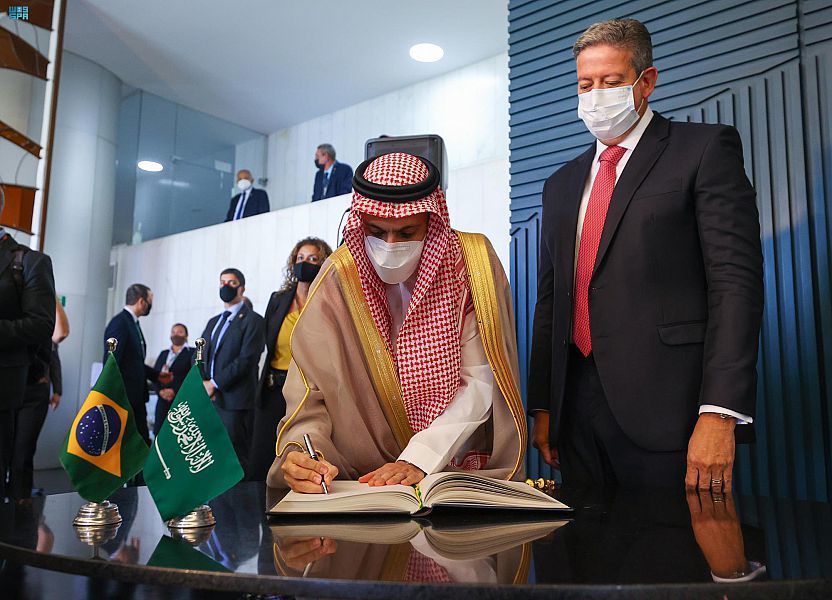 Saudi Arabia's Foreign Minister Prince Faisal bin Farhan signs the honorary visit record book at the Brazil National Congress headquarters.
Prince Faisal and Lira reviewed bilateral relations, discussed aspects of parliamentary cooperation, and the importance of strengthening joint parliamentary action.

The meeting also dealt with the importance of the role played by parliaments and civil society institutions around the world in promoting dialogue between different civilizations and cultures and in supporting sustainable development, as well as regional and international developments.