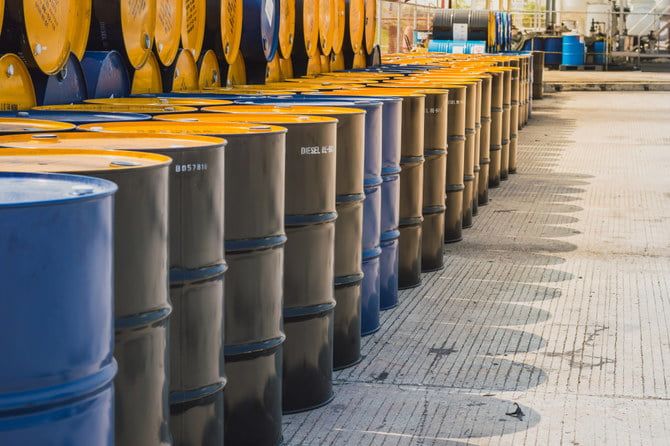 Saudi Arabia's crude oil exports at 5-month low in November: JODI data 
Saudi Arabia's crude oil exports hit a five-month low in November 2022, as it declined to 7.28 million barrels per day from 7.7 million bpd in October, the International Energy Forum said on Thursday, citing data from the Joint Organizations Data Initiative.
According to the report, the Kingdom's crude production went down by 489,000 bpd in November to 10.47 million bpd, which also resulted in a decline in global crude production by 599,000 bpd.

JODI data indicated that global oil demand climbed seasonally by 1.7 million barrels per day in November to its highest level since February 2022, primarily driven by gains in China, Japan, and India.

Oil demand in China rebounded by nearly one million bpd month-on-month, and the Asian giant's crude imports soared 1.22 1.2 million bpd to a 20-month high.

Global demand was at 100 percent of pre-pandemic levels in November, while crude production was at 97 percent of pre-pandemic levels, the report noted.

Meanwhile, Saudi Arabia's crude inventories increased by 3 million barrels in November, but product inventories fell by 2.5 million barrels.

Earlier in December, the Organization of Petroleum Exporting Countries and its allies, known as OPEC+, agreed to maintain the status quo on output.

In October, OPEC+ had agreed to cut output by 2 million barrels per day, which equals to about 2 percent of world demand, from November until the end of 2023.

The JODI data suggested that US crude production in November decreased by 261,000 bpd to 12.12 million bpd, while total product demand declined by 203,000 bpd.

Meanwhile, the combined natural gas inventories of the UK and EU declined by 2.2 billion cubic meters in November, less than the seasonal average draw of 7 bcm. Inventories stood at 93 percent full at the end of the month, the report further stated.

JODI updated the oil and gas database on Jan. 19 with 50 countries reporting data for the latest month of November 2022. Interestingly, this month's data did not include updates from Russia, one of the world's largest energy producers.

On Jan. 17, OPEC, in its monthly report said that global oil demand in 2023 will rise by 2.22 million bpd, or 2.2 percent.

"The global momentum in the fourth quarter of 2022 appears stronger than previously expected, potentially providing a sound base for the year 2023," OPEC said in the report.

OPEC also noted that its crude oil output in December rose by 91,000 bpd to 28.97 million bpd.