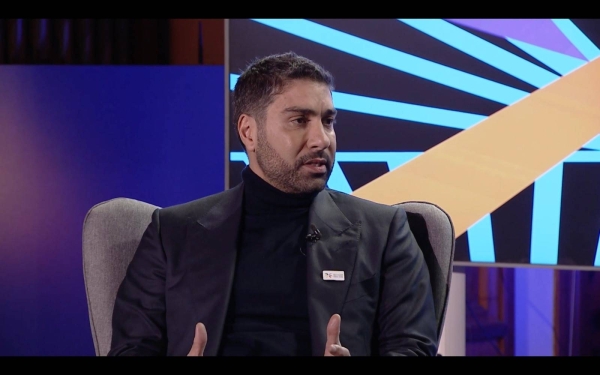 Riyadh Expo 2030 is an investment in the future of our people, RCRC chief says
Saudi Arabia's bid to host Expo 2030 is not a one-off investment, but it would rather be an investment "in the future of our citizens, residents and visitors," explained Fahd Al-Rasheed, the head of the Royal Commission for Riyadh City.
"We're thinking about the legacy of the site itself and how it can be used. It cannot just be built and then everybody packs their bags and leaves. It has to be used beyond us. So, we're thinking about the design of the buildings and we have a masterplan in a way that we can use them for the future of work, the future of education and re-skilling," he said.

Speaking at a fireside chat with award-winning broadcaster Emma Crosby at a special event on the Davos promenade on the sidelines of the World Economic Forum's Annual Meeting, Al-Rasheed said the Expo 2030 infrastructure would come naturally, given the work already being carried out in accordance with Crown Prince Mohammed bin Salman's Vision 2030.

His vision, however, for the expo is not solely in the look and feel of the site, but rather in its legacy.

"Our legacy from Expo 2030 is not going to be a building. It has to be mass engagement, and at a scale never seen before," he explained.

"It is literally going to be the largest event in the world, and so what we committed to is the following: not only are we going to get 30 to 40 million people to the site, which is fantastic... it's a record. We're going to get a billion people to interact with it on the Metaverse and we are now translating that vision into reality."

This virtual expo will cater to those who wouldn't be able to fly over to the Saudi capital, but for the chief executives, it will be more than just a virtual tour.

"You'd give a billion persons the opportunity to actually come and see it, and that would be the first win," he said. "The second win is they would actually come in and do something experiential about water use and energy use, learn something and apply it in their home. That will get you a mass impact.

"And third, maybe even transact, do a job virtually, or meet somebody or a company, get an investment, etc.. So again, it has to be useful to everybody for it to be used."

Even then, achieving an onsite presence of over 30 million is a feat not yet seen before, with the Dubai Expo 2020 attracting 26 million visitors over the span of 6 months.

"You have to have a great site, great mobility, which we are already doing now. And the metro will connect to the site," he said, "The site is just south of the airport. So it's basically the gateway into the city of Riyadh. And we are going to have 140,000 hotel rooms by then anyway. And so the expo will come in naturally."

The capital has already begun working on climate action and sustainability, with over $70 billion invested in such projects.

"We said we cannot announce a strategy of hypergrowth without having a sustainability commitment. So last year we formally announced the real sustainability strategy," Al-Rasheed said.

"We love our environment, we love our city, and we have a commitment to the world. So we will change all our systems, we will change all our plans. We will make 30 percent of our cars electric vehicles by 2030 and 50 percent renewable energy sources by 2030."

The fireside chat was attended by a large number of WEF delegates, business executives, journalists and investors.