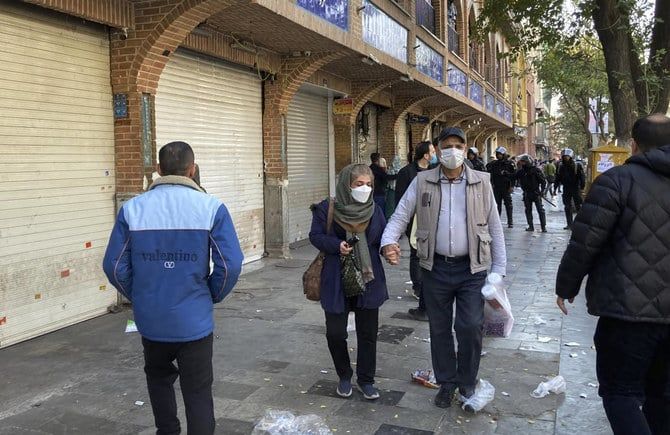 Outrage as Iran sentences three more protesters to death
Iran faced new international outrage on Wednesday after three more protesters were sentenced to death in the crackdown on demonstrations sweeping the country.
The Iranian judiciary claimed one demonstrator had attacked police with his car, the second had stabbed a security officer, and the third tried to block traffic and spread "terror."

Five death sentences have now been imposed since Sunday. Mahmood Amiry-Moghaddam, director of the Iran Human Rights activist group, condemned the sentences and said the proceedings were unfair.

"Protesters don't have access to lawyers in the interrogation phase," he said. "They are subjected to physical and mental torture to give false confessions and sentenced based on the confessions by the revolutionary courts.

"We fear mass executions, unless the political cost of executions increases significantly."

Street violence has raged across Iran since the death in morality police custody of Mahsa Amini, a 22-year-old Kurdish woman detained in September for breaching Iran's dress code for women.

The demonstrations continued on Wednesday. A crowd of protesters on a Tehran street chanted "We'll fight, we'll die, we'll take back Iran."

Security forces opened fire on dozens of commuters at a Tehran metro station, causing them to scramble and fall over each other on the platform.

Other members of the security forces, including plainclothes officers, attacked women without hijabs on an underground train.

Special forces also opened fire on students after entering Kurdistan University in the flashpoint western city of Sanandaj.

Organizers of the protests have called for three days of action to commemorate hundreds killed in the "Bloody Aban" demonstrations that erupted in November 2019 after a sudden increase in fuel prices.

The anniversary gave new momentum to the Amini protests, in which women have burned their headscarves and confronted security forces on the streets.

Meanwhile, several French intelligence agents were arrested in relation to protests in Iran, the country's Interior Minister Ahmad Vahidi told state TV on Wednesday.

"People of other nationalities were arrested in the riots, some of whom played a big role. There were elements from the French intelligence agency and they will be dealt with according to the law," Vahidi said.

The Islamic Republic has accused Western countries of stoking nationwide protests after the death of Mahsa Amini on Sept. 16 in the custody of the country's morality police.

Last week, France's Foreign Minister Catherine Colonna said a total of seven French nationals were detained in Iran.