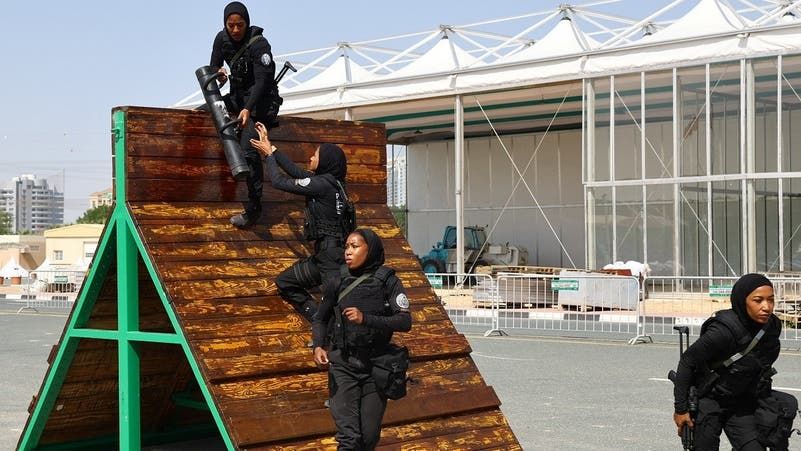 Meet the Dubai Police all-women SWAT team, fast roping, sniper shooting and all
From crossing obstacle courses, fast roping, to sniper shooting, members of Dubai Police all-women SWAT team can do it all.
Wearing their all-black uniform and protection gear, the Emirati team of 11 have been training on SWAT drills on a daily basis since the team was formed in September last year.

Expected to knock down doors and rescue hostages, the SWAT team's training is focused on increasing their fitness level and shooting."Members of the raid and special operations teams have high and accurate shooting skills, as well as great fitness so they are ready for either an actual field operation or competitions," first lieutenant at Dubai Police, Yasser al Zarouni said.

Nevertheless, the journey has not been easy, with many weary of women engaging in such a field of work.

"When I first told my parents that I would join the SWAT team, my mother was against the idea, she was very scared, especially as it requires speed, accuracy and shooting, but I was able to convince and prove to her that I am up to the position I am in," SWAT team member, lieutenant Latifa al-Salman said.

Stretching themselves both physically and mentally, team members say their journey has been rewarding.

"What changed in me is that I have more confidence and I feel like I can do anything, if you want me to climb down a tower, I can, or climb up Burj Khalifa, I am ready. I have more confidence now," al-Salman added.

Taking a deep breath and holding on tight to her rope, sergeant Sheikha Ali Abdullah, takes a leap during her fast-roping training session.

Having joined Dubai Police 7 years ago, she encourages other women to do so.

"It changes one's personality a lot and makes them more committed, it also develops them and pushes them to face their challenges and fears," Abdullah said.