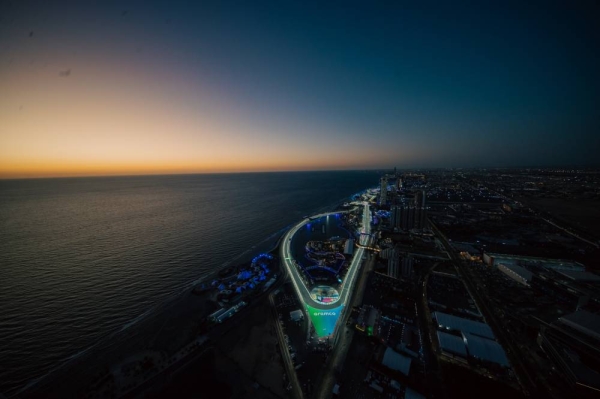 Jeddah Circuit where drivers must have mettle to take turns
Full of culture, Jeddah Corniche Circuit is distinguished for being a very fast track, where drivers have to be really courageous to take the turns, says Hisham Atiyyah, project manager of the circuit.
Speaking to Saudi Gazette, Atiyyah said Jeddah circuit, the fastest street circuit ever in Formula 1, has beautiful run-off changes every year. "Jeddah is built by the youth of Saudi Arabia," he said.

Formula 1 Saudi Arabian Grand Prix 2023, which is scheduled to take place on March 17, 18 and 19 in the Bride of the Red Sea, has witnessed many changes this year.

Attiyah said ever since the race was inaugurated in 2021, the track was very fast and a lot of modifications were needed to be carried out. He said they adjusted some of the corners as well as some of the safety elements in the track.

He said the main reason for the changes was increasing visibility and preventing accidents, as drivers suggested certain changes to have more visibility. "A clearer view of the car gives drivers more courage to speed," Attiyah said.

The modifications resulted in the circuit being described as slightly less dangerous, with a little bit more visibility for drivers navigating the corners.

Regarding the kerbs, Attiyah noted that in T11, they were initially having steel kerbs, but with the adjustments, they removed most of the steel kerbs in terminal 2 and 3, and converted them to concrete bevelled kerbs.

The reason for the conversion to concrete is the heavy crash that Mick Schumacher suffered during the qualifying round for the Formula 1 Saudi Arabian GP last year.

Also they have added white dashed lines (rumble lines) to give the drivers some sort of warning that they are going away from the race direction, similar to the cat's eye in roads.

The space removed from the circuit varies, some are 6 meters and some 10 meters, Attiyah said, noting that they did not play with the race lines so much. "They remain the same, but the barriers themselves are slightly adjusted," he added.

He said that the total changes to the track is from 7 to 15, including the rumble lines and the expansion.

Saudi Arabia has received the largest number of online views in the last 15 years of Formula 1 history, and the number of views is still increasing.