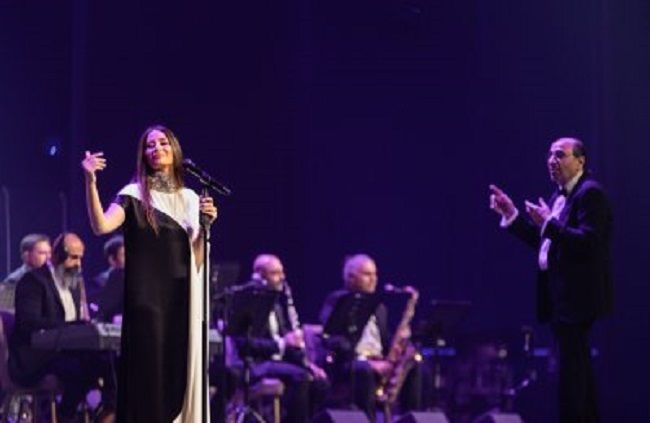 Hiba Tawaji rocks AlUla with debut winter concert
Lebanese soprano coloratura singer and actress Hiba Tawaji gave a spectacular performance last night (October 29) at Maraya AlUla in a live concert that marked the return of events at Maraya and the start of the musical events for the winter at Saudi Arabia's first Unesco world heritage site AlUla.
Hiba looked right at home on the stage of Maraya with a stunning appearance. She sang a rich repertoire of songs including "Min Elli Byekhtar" that spoke to the women of Saudi and "La Bidayi Wla Nihayi" and "Toleat Ya Mahla Nourha" with a symphonic orchestration.

Hiba surprised and delighted her fans with a medley from Aladdin featuring "Arabian Night", "A Whole New World" and "Speechless".

And paying homage to Saudi Arabia, Hiba performed "Leila", in a grand and new orchestration. The song, very dear to Tawaji's heart, was included to show love and to pay respect to the country and the historical destination of AlUla.

Composer and producer Oussama Rahbani introduced on a new ouverture piece tailor-made for AlUla that brought the audience on the edge of their seats before Hiba made her big entrance on stage.

Musical events will continue in AlUla in the coming weeks

Located 1,100 km from Riyadh, in North-West Saudi Arabia, AlUla is a place of extraordinary natural and human heritage.

The vast area, covering 22,561 sq km, includes a lush oasis valley, towering sandstone mountains and ancient cultural heritage sites dating back thousands of years to when the Lihyan and Nabataean kingdoms reigned.

The most well-known and recognised site in AlUla is Hegra, Saudi Arabia's first Unesco World Heritage Site.

A 52-hectare ancient city, Hegra was the principal southern city of the Nabataean Kingdom that comprised 111 well-preserved tombs, many with elaborate facades cut out of the sandstone outcrops surrounding the walled urban settlement.

Current research also suggests Hegra was the most southern outpost of the Roman Empire after the Roman's conquered the Nabataeans in 106 CE.