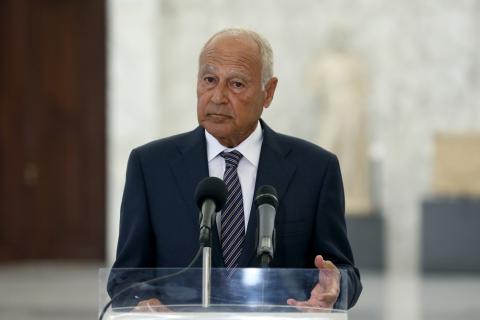 Arab League Says Ready to Facilitate Dialogue between Lebanese Rivals
Arab League Secretary General Ahmed Aboul Gheit stressed on Thursday that kicking off economic revival in Lebanon hinges on resolving the political deadlock in the country.
The Arab League is prepared to facilitate dialogue between the Lebanese parties to that end, he told an economic forum in Beirut.

The lack of dialogue and clinging on to unyielding stances to bide time is not a viable strategy to address the current impasse, he warned.

Reforms are needed to help Lebanon end its crisis. "Reforms are no longer a choice, but a pressing need that can no longer be postponed," added Aboul Gheit.

He noted the deteriorating global food and energy crises that have compounded the situation in Lebanon.

They should be incentives to carry out reforms immediately, he remarked.

Reforms must cover the financial and banking systems and the restructuring of the public debt. This will in turn restore trust in the banking system and protect the rights of depositors and stop the collapse of the Lebanese pound, he added.

He called for completing negotiations with the International Monetary Fund to reach a final agreement that would help put Lebanon on the path of economic recovery and pave the way for greater international aid.

This will help restore the trust of regional and international investors and backers, said Aboul Gheit.

Moreover, he warned that the economic and social situation in Lebanon cannot tolerate a prolonged vacuum in the presidency.

Lebanon had witnessed prolonged vacuum before, but the economic situation was different then, he noted.

Lebanese politicians dealt with the vacuum with consensus and the adoption of innovative politics. However, the current crisis is unprecedented and cannot go on indefinitely, he remarked.

A new president must be elected as soon as possible. The president must represent all Lebanese people, of all political and partisan affiliations, and must help unite the country and restore trust in it, he urged.

He called on Lebanese political leaders to realize the severity of the situation that is compounded by instability around the world.

Global crises must prompt parties to overcome and contain all division and prioritize Lebanon's interest above all else, he stressed.

Speaking at the same forum, caretaker Prime Minister Najib Mikati said sweeping reforms remain vital to rescue the stricken economy, despite a return to modest growth this year.

Mikati said the economy had grown by nearly two percent in 2022 after two straight years of severe recession that saw Gross Domestic Product fall by 25.9 percent in 2020 and by 10.5 percent in 2021, according to World Bank figures.

He said increased revenues from tourism and a rise in remittances from Lebanese living abroad were factors behind the modest growth.

He said the country was now "at a crossroads -- it will either mark the start of the economic revival we have been hoping for, or a dark decline."

Mikati has led a caretaker government since a May general election failed to deliver a majority to either of Lebanon's rival power blocs.

The political deadlock has deepened since end of October, when former president Michel Aoun's mandate ended without agreement on a successor.

As caretaker leader, Mikati has limited powers and cannot deliver the sweeping reforms demanded by international lenders in exchange for releasing billions of dollars in bailout loans.

"If a new president is elected swiftly and a new government formed that commits itself to real reforms... the country will begin to recover", Mikati told a business forum.

"If not, God forbid, the economic stagnation will only get worse," he said.