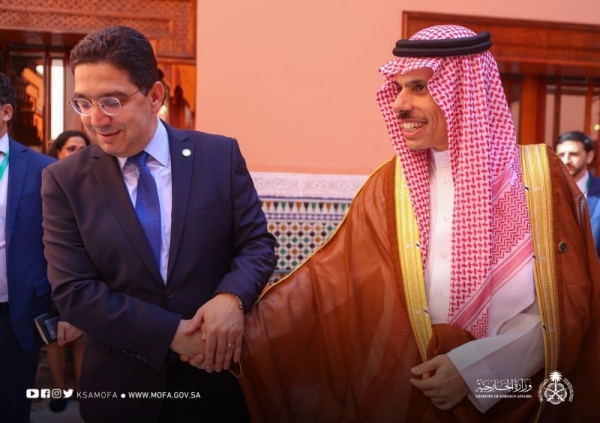 Saudi foreign minister meets counterparts in Morocco
Foreign Minister Prince Faisal Bin Farhan met with his counterparts from several countries on Wednesday on the sidelines of the ministerial meeting of the Global Coalition to defeat Daesh, which was held in Marrakesh, Morocco.
Prince Faisal met with his Moroccan counterpart Nasser Bourita, who co-hosted the main meeting, to discuss bilateral relations and ways in which they might be enhanced. They also reviewed regional and international developments of common interest.

Prince Faisal also held meetings with the foreign ministers of Iraq, Bahrain, Spain, Portugal, Romania, Norway and the Czech Republic.

The First Ministerial meeting for the Global Coalition to Defeat Daesh began on Wednesday with the participation of a Saudi delegation led by the foreign minister.

Bourita said in the opening session of the meeting that the threat of terrorism was on the rise especially in the African continent, a fact requiring a unified global effort to fend off this menace.

He indicated that about 50 percent of terror-related deaths occurred in Africa in 2021 from the global total of 3,461.

Western Africa and the Sahel regions are focal points for terror groups, which resulted in the displacement of 1.4 million people due to the threat of terrorism, said Bourtia, who commended holding the ministerial meeting for the coalition in Africa, an act of solidarity and cooperation.

He revealed that in 2021, some 500 terror-related attacks occurred in Africa, leading to the death of thousands, adding that the US renewed its commitment to help countries suffer from terrorism.

The meeting, called upon by Bourita and US Secretary Antony Blinken, witnessed the participation of delegations from 80 countries and international organizations such as NATO, EU, the Arab League and others.

Founded in 2014, the Global Coalition to Defeat so-called IS gathers 84 regional and international entities with the purpose of ending the terror group and its insidious activities.