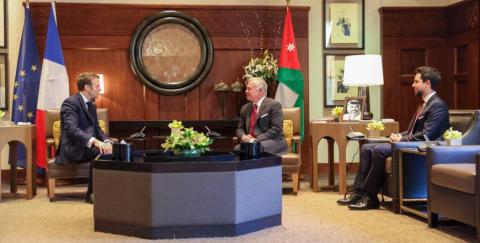 Jordan's King Asserts Importance of France's Support of Two-State Solution
The Jordanian monarch, King Abdullah II, stressed the importance of the supporting positions of France and the European Union for peace efforts based on the two-state solution.
King Abdullah stressed that Jordan would continue to exert all efforts to safeguard Jerusalem's Islamic and Christian sites under Hashemite guardianship, reiterating the importance of supporting refugees and UNRWA.

King Abdullah held talks with French President Emmanuel Macron on Wednesday at al-Husseiniya Palace, covering bilateral ties and the latest regional and international developments.

The French President arrived in Jordan on Tuesday to participate in the Baghdad conference at the Dead Sea.

At bilateral talks that were followed by an expanded meeting attended by Crown Prince Hussein, the two leaders stressed the deep-rooted ties of friendship between Jordan and France, as well as keenness to advance them further, according to a Royal Court statement.

Abdullah II appreciated France's support for the Baghdad Conference for Cooperation and Partnership, saying there were "successful."

"We look at France as an integral part of our history in the region," the King continued, adding, "This is an amazing relationship that we have always had with France politically, more so militarily, unfortunately, because of issues in our region."

The two leaders addressed the challenges in Iraq, Syria, and Lebanon, as well as the Palestinian cause, noting that the French President's "role in being able to focus on the issues and the challenges that we have has been of tremendous help."

Macron stressed the importance of cooperation with Jordan, and the outcomes of his talks with the King, highlighting the importance of the meetings on the sidelines of the conference.

"I think the bilateral relations are delivering great results, and we want to do more," Macron said, expressing France's desire to support Jordan's projects.

The President lauded Jordan's role in the region, saying the bilateral cooperation and coordination on vital issues for the security and stability of the area are essential for France.

Macron stressed that under King Abdullah II, Jordan was France's partner, ally, and friend in the region.

Macron described the second Baghdad conference as a success, commending Jordan and the King for their "convening power and the ability to gather all these countries around the table and then sharing the same agenda, framing the discussion in the region and supporting Iraqi sovereignty and the different prospects."

"I want to thank you and congratulate you because I think it was not a done deal, and a few months ago, all of the people probably doubted the collective ability to organize such a conference, and you did it, so thank you very much," Macron added.

The talks also covered international developments and challenges, including ways to cooperate in ensuring food security and mitigating the impact of climate change while maintaining efforts to counter terrorism within a holistic approach.