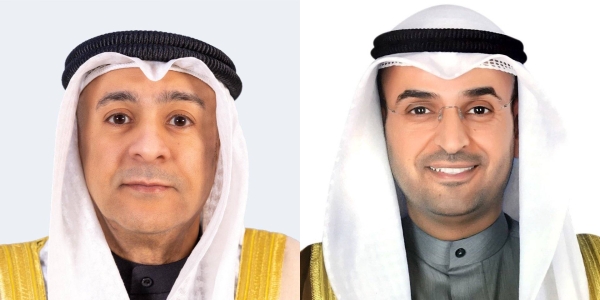 Jasem Albudaiwi appointed as new GCC Secretary General
The Gulf Cooperation Council (GCC) Secretary General Dr. Nayef Al Hajraf welcomed the newly appointed GCC Secretary General Jasem Mohamed Albudaiwi.
Dr. Al Hajraf congratulated Albudaiwi on his appointment, wishing him success in performing his duties starting on February 1.

He also wished him success in carrying out the responsibilities entrusted to him at the General Secretariat to strengthen the process of joint Gulf action to achieve its lofty goals towards more cooperation and integration among the GCC member states in a way that delivers the directives and visions of Their Majesties and Highnesses, the leaders of the GCC states.

The secretary general praised the rich diplomatic career of Albudaiwi, which will contribute to strengthening the regional and international status of the council, protecting its gains and striving towards accomplishing more achievements to serve its member states and the people of the GCC.

Jasem Mohamed Albudaiwi was born on February 22, 1968, and obtained a Diploma in Diplomatic Studies from University of Oxford, in 1993, and a B.S. in Mass Communications from the University of Utah, Salt Lake City, Utah, U.S.A, in 1991.

Throughout his career, he held several positions, including being Kuwait's Ambassador to the US from 2022 to 2023, Non-Resident Kuwait's Ambassador to the Grand-Duchy of Luxembourg from 2017-2022, Head of Mission of Kuwait to the European Union from 2017 to 2022, Head of Mission of Kuwait to the North Atlantic Treaty Organization (NATO) from 2016 to 2022, Kuwait's Ambassador to Belgium from 2016 to 2022, Kuwait's Ambassador to Korea from 2013 to 2016, Deputy Director, Department of the Undersecretary of the Ministry of Foreign Affairs, from 2012 to 2013, Deputy Chief of Mission at the embassy of Kuwait to the US in 2011.