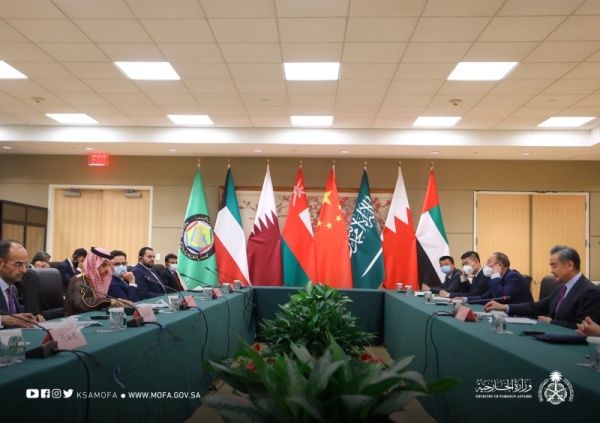 Foreign minister chairs GCC-Chinese meeting
Foreign Minister Prince Faisal Bin Farhan chaired on Tuesday the Gulf side in the ministerial meeting between the troika of GCC with China, led by the State Counselor and Foreign Minister of China Wang Yi.
The meeting comes on the sidelines of the 77th annual session of the United Nations General Assembly in New York.

During the meeting, they reviewed the friendly relations between the GCC countries and China, and ways to enhance them in all areas of cooperation.

The meeting touched on many regional and international issues of common interest, foremost of which is the promotion of security and stability in the region.

The meeting also reviewed the latest developments related to the free trade negotiations between the two sides and the mutual interest in strengthening and developing trade and economic relations.

They also discussed the political and security developments in the region, and regional and international issues of common interest, stressing the importance of continuing coordination between the two sides and strengthening areas of cooperation to serve common interests.

Participating in the meeting were, Khalifa Al Marar, UAE minister of state, Dr. Abdullatif Al Zayani, Bahraini foreign minister, Dr. Mohammed Al Hassan, permanent representative of Oman to the UN, Dr. Mohammed Al Khulaifi, Qatari assistant minister of foreign affairs for regional affairs, Shaikh Ahmed Nasser Al Mohammed Al Sabah, Kuwaiti foreign minister, and Dr. Nayef Al Hajraf, secretary general of the GCC.