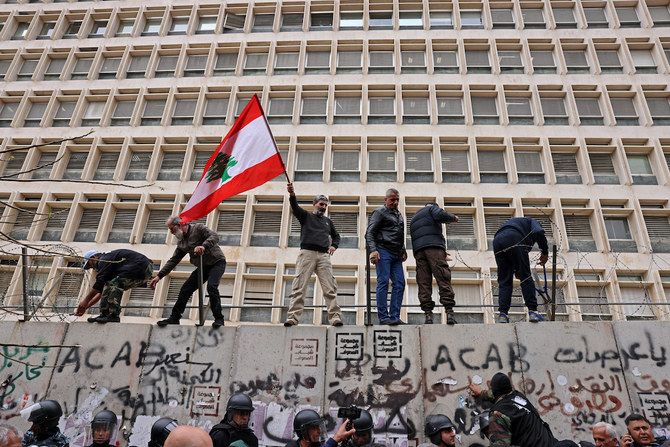 European judges quiz aide to Lebanon central bank chief
A European judicial delegation on Friday completed its second hearing with Marianne Hoayek, assistant to the governor of Lebanon's central bank.
Hoayek is being questioned as a suspect in a money laundering case involving European bank accounts belonging to Gov. Riad Salameh and his brother Raja Salameh.

The EU judicial delegation also questioned Madeleine Shaheen, assistant to Marwan Kheireddine, chairman of Al-Mawarid Bank.

The delegation is led by French judge Aude Buresi, and includes a Munich public prosecutor and investigators from Luxembourg.

A judicial source told Arab News: "The delegation asked Hoayek about a hundred questions, and she answered all of them."

Hoayek attended the hearing without her legal representative, and was questioned on her role in the Banque du Liban and its financial operations, as well as her work as an executive adviser to Salameh since April 2020.

The two sessions were attended by the first investigating judge in Beirut, Charbel Abu Samra, who is in charge of executing European authorizations, along with Judge Helena Iskandar, head of the Cases Authority at the Ministry of Justice, who is representing the Lebanese state in her claim against Salameh.

Judge Buresi began questioning Kheireddine in France several weeks ago in connection with charges that included "associating with a criminal gang with the aim of embezzling public funds, breach of trust, and corruption of a public official."

The European delegation told the Lebanese judiciary that Kheireddine, who recently returned to Beirut, must abide by requirements to refrain from entering his bank, Al-Mawarid Bank, or communicating with Riad Salameh, Raja Salameh, Nadi Salameh (son of Riad Salameh), Hoayek, Marwan Khoury, Nabil Aoun and Antoine Salameh.

The French prosecution provided information about assistance offered by Kheireddine to Riad Salameh, his brother, son and those close to him through financial accounts, which allegedly facilitated money laundering operations.

"Lebanon is not obligated to implement any control over Kheireddine on Lebanese soil," the judicial source said.

Public Prosecutor Judge Ghassan Oueidat is expected to officially request French judicial authorities provide him with a copy of the investigations conducted into Kheireddine.

The European judicial delegation on Tuesday is due to question financial auditors Samir Gholam from Gholam & Co. Auditing, and Walid Nakfour from Ernst & Young, provided that Raja Salameh and the former director of organization and development at BDL Raja Abu Asali are questioned on Wednesday.

Raja Salameh did not attend his scheduled hearing sessions last Tuesday and Wednesday after his lawyer presented a medical excuse.

Next Thursday, the European judicial delegation will question the financial auditor at Deloitte, Nada Makhlouf.

The aforementioned financial auditors have worked auditing BDL accounts since the 1990s.

Next Friday the European delegation is scheduled to question caretaker Minister of Finance Youssef Khalil.

According to a judicial source, the foreign judicial delegation is not entitled to officially charge the persons being interrogated on Lebanese soil, but can take whatever measures it deems appropriate after returning to its country.

Judge Buresi is expected to question Riad Salameh in Paris on May 16. Whether the governor appears before the French judiciary remains to be seen.

The French financial investigation into Riad Salameh's wealth began in July 2021, in parallel with investigations in other European countries and Switzerland.

In March 2022, France, Germany and Luxembourg froze €120 million ($132 million) of Lebanese assets following the investigation that targeted Salameh, his two brothers, and those close to him, on charges of money laundering and embezzlement of public funds in Lebanon worth more than $330 million and €5 million, respectively, between 2002 and 2021.