Barclays is closing one of its banks after realising it's used by only one customer, and they refuse to go online.
Peter Wisby, 84, has never used the internet and doesn't have a smartphone, so completely relies on the Tower Bridge Road branch in Bermondsey, south London, to do his banking.

Mr Wisby, who lost a leg in a motorbike accident in 2003, now has to make a two-mile trip to his next nearest bank.

A Barclays worker normally does all the work for him and his wife Eileen, 81, and he claims the bank is lying when it says they're the only regular customer.

He said: 'They just tell a pack of lies. They say people aren't using the banks but it's because they are putting obstacles in the way all the time.

'Over the last year they deliberately shut the tills down, and then reluctantly they will open the till when I kick up a fuss.

'You get a lot of people and they just have a natural aptitude with a keyboard and I've never tried online banking, I refuse to do it.'

The couple already had to bank further away from home when the Southwark Park Road Barclays closed a few years ago.

They will also not take money out from a hole in the wall 'because they are too dangerous'.

The most up-to-date piece of technology they have is Eileen's mobile phone, which she can 'just about send a text on'.

She explained it would be really difficult for either of them to get to the next two closest branches.
'They said in the letter it was Borough High Street or Fenchurch Street, there's no way we can get to either one every week,' she said.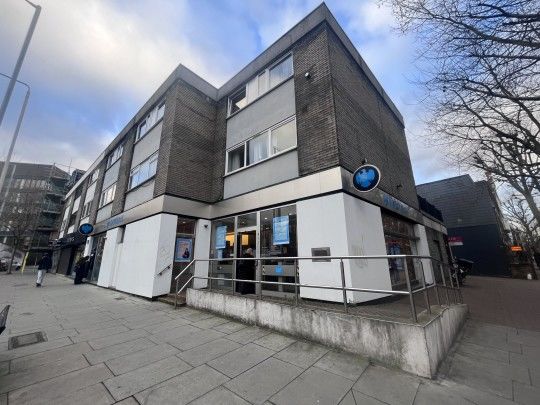 The Bermondsey bank closed as there was only one regular customer
'They're trying to force this banking online on us, I've got a mobile that my grandkids bought me, and I can use it to text.
'They said they'd show me how to bank online on it, I said "no way".'
They were also recently scammed by someone using their account to buy hundreds of pounds worth of goods online from Just Eat and Debenhams.
Mr Wisby said: 'The other week we were looking at the bank statement and it had £150 Just Eat and £150 Debenhams, both online, and we don't use online.
'The more you use the system the banks are forcing on us the more it's easy for people to do fraud.'
A Barclays spokesperson said: 'We do have more than one customer who uses the branch to undertake their banking.
'However, we have identified that only one customer uses this branch regularly as the only way in which they interact with us. i.e. they do not bank by telephone, online or by mobile or use any other branches.
'Our customers' behaviour has changed significantly in recent years, with the majority now choosing online banking.'