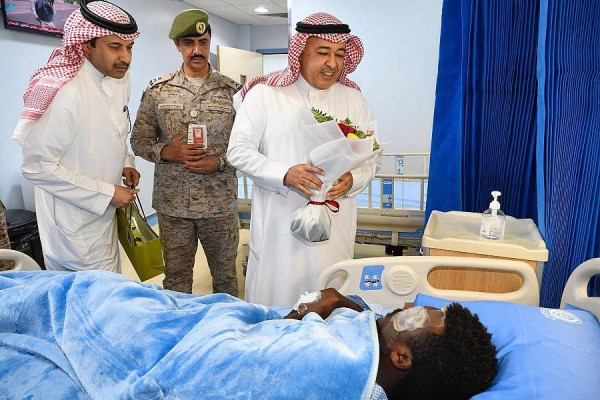 Assistant Minister of Defense Khalid Al-Bayari tours Southern Region
In implementation of the directive of Crown Prince Mohammed bin Salman, Deputy Prime Minister and Minister of Defense, Assistant Minister of Defense for Executive Affairs Dr. Khalid Al-Bayari visited the Southern Region within the framework of the "Together" program, which aims to achieve best practices in the ministry's work environment.
The Assistant Minister of Defense for Executive Affairs started his visit with a tour to the Armed Forces Hospital in the Southern Region, where he was briefed on the latest developments in the Diabetes Center and the Prince Khalid Bin Sultan Center for Cardiac Diseases and Surgery.

Later, he inaugurated the digital dental laboratory, which was designed as per the latest digital technologies to provide advanced services to patients, and the pharmaceutical mail service, which provides distinguished services and saves time and effort.

During the tour, Dr. Al-Bayari also visited armed forces personnel who were wounded during the Determination Storm and Renewal of Hope operations. He conveyed to them the greetings of the Custodian of the Two Holy Mosques King Salman, Supreme Commander of All Military Forces, and Prince Mohammed bin Salman, and Prince Khalid bin Salman bin Abdulaziz, Deputy Minister of Defense.

He visited the Facilities Management and Engineering Affairs Branch and listened to a briefing about the branch's projects. He also met employees of the branch.

Dr. Al-Biyari concluded his visit to the Southern Region watching a brief presentation at the Operations Center of the Southern Command about the Ministry of Defense development program, its achievements, progress, and the most important achievements in the related initiatives.