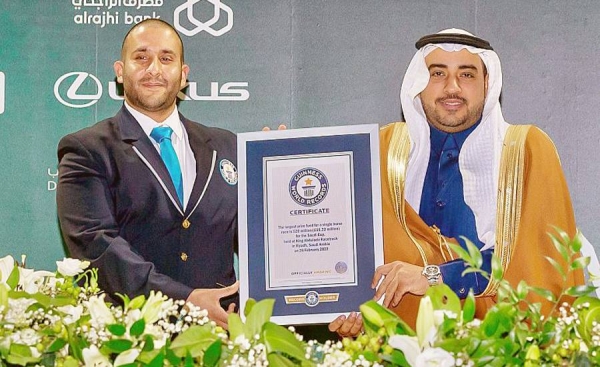 Al-Olayan receives Guinness World Records certificate for the most expensive equestrian race in the world
The CEO of the Horse Races Club and Secretary-General of the Equestrian Authority, Eng. Marwan Bin Abdulrahman Al-Olayan, received Saturday at the club's headquarters in Riyadh, a Guinness World Records certificate for the most expensive equestrian race in the world.
Guinness World Records official Adjudicator, Ahmed Bucheeri, presented the certificate and award during a ceremony on the platform of the King Abdulaziz Racecourse for Horse Racing.

The 2022 Saudi Cup was able to break records as the most expensive horse race in the world, with a financial prize of $20 million, while the total value of the Saudi Cup race prizes is $35.1 million, representing the most expensive horse racing prize in the world.

Bucheeri, in his speech during the ceremony, said, "On behalf of the Guinness World Records, I am pleased to announce that the 2022 Saudi Cup is the new Guinness World Record holder for the most expensive race in the world."

He added that the largest financial prize for the individual race, worth $20 million, was in the Saudi Cup, which was organized at King Abdulaziz Racecourse, in Riyadh on Feb. 26, 2022, pointing out that Guinness World Record is now officially registered under the name of the Saudi Cup 2022 after it used to be under the name of the Dubai World Cup, where the prize amounted to $10 million.

For his part, Eng. Al-Olayan said he was very pleased with the club's successive achievements, and said: "On myself and my colleague's behalf, we extend our sincere thanks and gratitude to our leadership for the generous and continuous support that equestrian sport finds.

"The club is working under the leadership and directives of Prince Bandar Bin Khalid Al-Faisal, the chairman of the Equestrian High Commission and chairman of the Board of Directors of the Horse Racing Club, and we still aspire for more under the directives of Crown Prince, me and the rest of my colleagues in the club, whom I congratulate on this award and thank them for their efforts in the successes that have been achieved by the club."

The Horse "Emblem Road", owned by Prince Saud Bin Salman Abdulaziz, had achieved the 2022 Saudi Cup and won the main prize of $20 million.