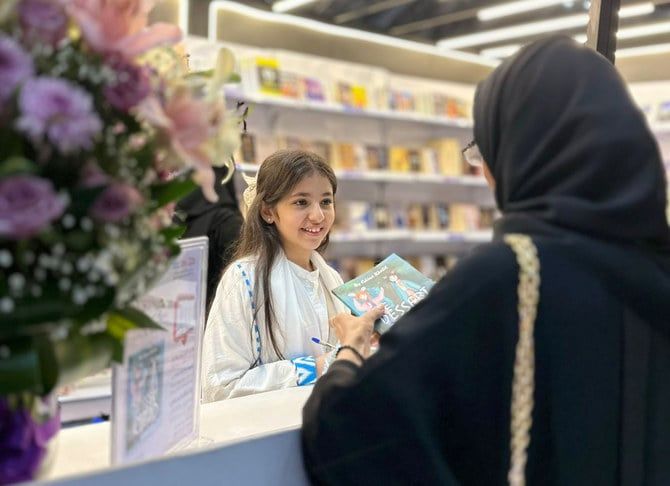 Young Saudi authors shine at Jeddah book fair
"I was about five years old when my father started to take me to the library and I became addicted to English books," Ghina Khalil, now 12, told Arab News at the Jeddah International Book Fair, which ended on Saturday. "That's how I got the inspiration to write my own books."
Khalil was one of several young authors who took part in this year's fair. She presented her first book, "The Desert Road," which she explained is the story of two girls, Bella and Lucy, who "decide to go to a place that no one ever returns from. They spent a few days there until something happened that could change their lives."

Khalil said she plans to write her next book in Japanese, one of the languages she speaks along with English and "a little Korean."

On the other side of the exhibition, 10-year-old Linda Al-Sheikhi — the fair's youngest novelist — was signing copies of her book "The Scary Man." It is intended as a warning to children not to trust strangers and tells the story of a man who tried to kidnap Al-Sheikhi and her brother, and how they managed to escape.

While signing her book, Al-Sheikhi said: "My mother helped me produce this book, and (we hope) to translate it into English, because children across the world share the same concerns and interests. (I hope) my message reaches all children of the world, so they protect themselves from those who want to harm them."

Young author Saleh Al-Zahrani attributes his writing prowess to his passion for reading and to advice he received from a teacher. His motivational book, "Be A Scientist," was reportedly one of the exhibition's bestsellers and won several awards. It is presented, he explained, as "a dialogue between me and the reader." He said he wrote the book over a seven-year period, from the age of 7 to 14.

The 10-day book fair, which took place at Jeddah Superdome, was organized by the Ministry of Culture's Literature, Publishing, and Translation Commission. More than 900 publishers and booksellers from 40 countries took part.