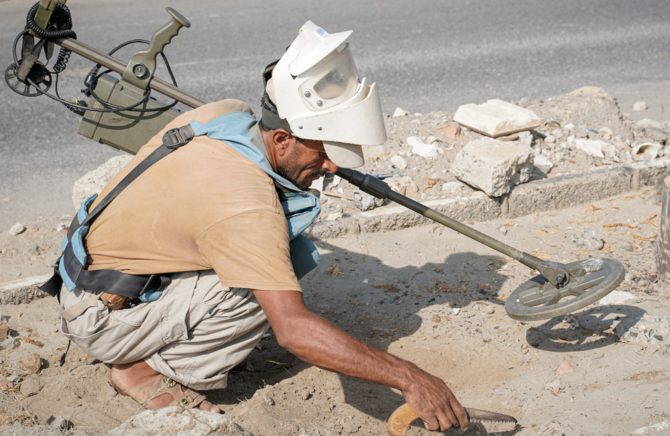 Yemen landmines kill 6 in Hodeidah in April, says Yemen mission
UN monitors in Yemen recorded 13 civilian casualties caused by landmines and explosive remnants of war (ERW) last month in Yemen's western province of Hodeidah.
The UN Mission to Support the Hodeidah Agreement reported that six civilians were killed and seven others injured in April in explosions caused by landmines and other unexploded ordnance in various locations of the Red Sea Yemen province, bringing the total number of civilian deaths and injuries to 363 since January last year.

Last month's civilian casualty figure is 13 percent lower than the same month last year and 24 percent lower than in March 2023.

"During the month of Ramadan (22 March to 21 April 2023), 22 casualties were recorded as a result of 10 incidents, in comparison to 15 casualties caused by nine incidents in the last Ramadan (2 April to 1 May 2022)," the UN mission said in a statement.

Even as the UN-brokered Stockholm Agreement, signed by Yemeni parties in late 2018, has brought relative calm to the province of Hodeidah over the last five years, thousands of landmines laid by the Iran-backed Houthis have continued to kill and maim hundreds of civilians while also preventing many internally displaced people from returning to their homes as well as farms, schools and workplaces.

The announcement of the UN mission comes as the Saudi-funded Masam demining program in Yemen prepares to record the removal of 400,000 landmines and other unexploded war remnants from the country.

Project Director Osama Al-Gosaibi said that Masam field deminers removed 398,110 landmines, unexploded ordnance and IEDs from 45,952,405 square meters of Yemeni land between mid-2018 and May 12 this year.

Masam also said that a health center in Hodeidah's Bani Zuheir village had reopened and that patients were arriving in large numbers after deminers removed nine IEDs from the building and secured access roads.

Despite Masam's extensive efforts, Hodeidah residents continue to report finding landmines exhumed by flooding.

Masam deminers discovered two fields containing landmines in the Hays district village of Bani Zuheir thanks to a tip from young shepherds who spotted the devices on the ground.

Yemen's government, meanwhile, said on Monday that a third Yemenia Airways plane carrying 177 Yemenis from Sudan's Port Sudan landed in the southern city of Aden, following the arrival of two planes carrying 360 Yemenis in Aden and Houthi-controlled Sanaa on Sunday.

A fourth plane transporting almost 180 Yemenis is scheduled to land in Sanaa on Monday evening.

The Yemeni government announced on Saturday the beginning of four emergency direct flights from Sudan to Yemen to evacuate about 700 Yemenis, primarily the ill, women, children, elderly and female students.

The government said that the remaining 1,300 Yemenis stranded in Port Sudan will have to wait until the arrangement of new flights or ship charters before they can be transported home.