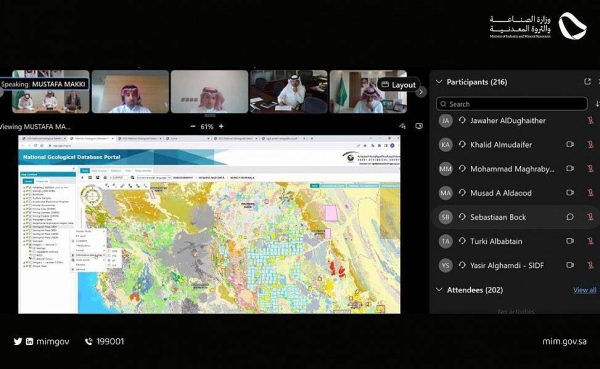 Workshop promotes investment in mining opportunities across Saudi Arabia
Vice Minister for Mining Affairs at the Ministry of Industry and Mineral Resources Eng. Khalid Salih Al-Mudaifer opened the workshop titled "Explore Mining Sector Future in Kingdom of Saudi Arabia" organized by the ministry in collaboration with the Ministry of Investment and the Embassy of South Africa.
The workshop, attended by South African Ambassador Cosbert Themba Rubushe, aims to attract investments in the Saudi mining sector and introduce South African investors to investment opportunities in the Kingdom.

During his inaugural speech, the vice minister spoke about numerous initiatives the Kingdom has launched to develop the mining sector and maximize the value of the country's mineral wealth, estimated approximately at 1.3 trillion dollars, including minerals that help.

According to the World Bank, 75 percent of global spending on mineral exploration goes to only ten countries, none of which is in Africa, the Middle East, the western and central Asia, despite the fact that there are vast untapped areas replete with potential resources and mineral deposits.

Ambassador Rubushe invited South African investors to the Annual Forum of Future Minerals, which the Kingdom will host in January 2023 and will bring together representatives from over 100 countries to share their experiences and promote regional investment opportunities.

During the workshop, the ministry spoke about exploration opportunities that will be launched in the form of future licenses similar to the license of "Khnaiguiyah". The licenses include minerals such as copper, zinc, gold, silver and lead. He said numerous investment opportunities will be announced during the conference and will be made available for domestic and international investors.

The ministry will take part in the Investing in African Mining INDABA due to be held in Cape Town, South Africa, between 9-12 May 2022. Various mining investment opportunities Kingdomwide will be promoted while Saudi Arabia's highly transparent and clearly defined mining legislation and laws will be highlighted for their contributory role in attracting investment and protecting investor rights.