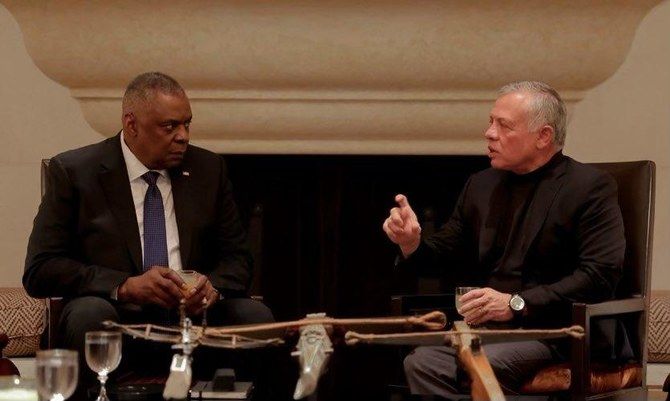 US defense secretary aims to reassure Mideast allies
US Defense Secretary Lloyd Austin, in Jordan to begin a three-country Mideast visit, is aiming to reassure key allies of American commitment to the region despite Washington's recent focus on Russia and China, officials said.
The Pentagon chief, who arrived in Amman on Sunday, is expected to press Israeli leaders to reduce tensions in the West Bank and work to strengthen ties in talks with Egyptian leaders.

"We've demonstrated over and over again that we can rapidly surge capability to any part of the globe that we need to, but especially here in the Middle East, because we've operated here for 20-plus years," Austin told reporters while visiting a joint training center near Amman.

The United States has about 30,000 troops in the region and is seen as pivotal in helping counter Iranian influence.

Retired US Marine Corp. General Frank McKenzie, who headed American forces in the Middle East until last year, said the region is significant to the United States.

"I think this trip is an excellent example of an opportunity to continue to tell people in the theater (region) that they remain important to us," added McKenzie, now leading the University of South Florida's Global and National Security Institute.

The United States last week demanded that Israeli Prime Minister Benjamin Netanyahu repudiate a call by his hard-line Finance Minister Bezalel Smotrich for a flashpoint Palestinian village to be "erased" — a comment that Netanyahu on Sunday called "inappropriate." The US State Department has called Smotrich's comment "repugnant."

"He (Austin) will also be quite frank with Israeli leaders about his concerns regarding the cycle of violence in the West Bank, and consult on what steps Israeli leaders can take to meaningfully restore calm before the upcoming holidays," a senior US defense official said, speaking on the condition of anonymity.

The Pentagon said Austin had discussed his concern about the escalation in tensions in the West Bank and Jerusalem during a meeting with Jordan's King Abdullah on Sunday.