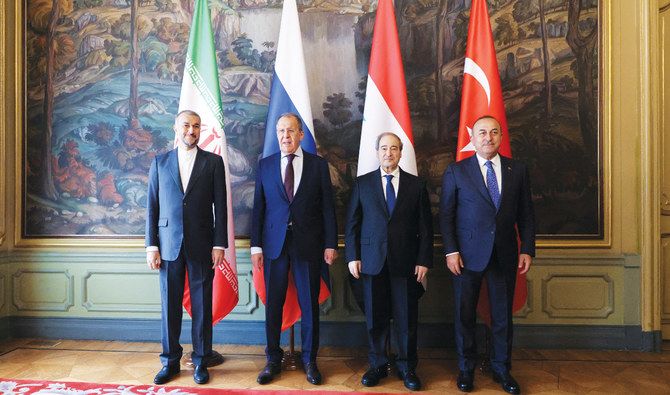 Turkiye-Syria rapprochement dialogue hosted by Moscow
Russia's foreign minister on Wednesday hosted his counterparts from Turkiye, Syria and Iran for talks that marked the highest-level contact between Ankara and Damascus since the start of the Syrian civil war over a decade ago.
In his opening speech, Russian Foreign Minister Sergey Lavrov expressed hope that the meeting would pave the way to drafting a road map for normalizing Turkish-Syrian relations.

Lavrov said he sees Moscow's task as "not only in consolidating politically the progress that has been made, but also in determining general guidelines for further movement."

Russia has spent years trying to help Syrian President Bashar Assad rebuild ties with Turkiye and other countries that were fractured in the war, which killed nearly 500,000 people and displaced half of Syria's prewar population of 23 million.

Russia intervened militarily in Syria starting in September 2015, teaming up with Iran to help Assad's government to reclaim most of the country. Moscow has maintained a military presence in the Mideast country even as the bulk of its forces are busy fighting in Ukraine.

Throughout the 12-year conflict, Turkiye has backed armed opposition groups seeking to remove Assad from power.

The Syrian government has frequently denounced Ankara's hold over parts of a northwest enclave previously seized by Assad's opponents. Turkiye captured the territory through several military incursions since 2016 against US-backed Kurdish forces.

The efforts toward a Turkish-Syrian reconciliation come as Turkish President Recep Tayyip Erdogan is under intense pressure at home to send Syrian refugees back amid a steep economic downturn and increasing anti-refugee sentiment. He is seeking reelection on Sunday, when Turkiye also holds both presidential and parliamentary elections.

Syrian state media quoted Foreign Minister Faisal Mekdad as saying during Wednesday's meeting that Syria and Turkiye "share goals and common interests." He said that "despite all the negatives over the past years," Damascus saw the talks as an opportunity "for both governments to cooperate with the help and support of our friends Russia and Iran."

Yet Mekdad added that the Syrian government's "main goal" was to end all "illegal" military presences in the country, including that of Turkish forces.

"We will continue to demand and insist on the subject of withdrawal," he was quoted as saying.

Following a deadly earthquake in February that killed tens of thousands of people in Syria and Turkiye, regional normalization with Damascus began to accelerate.

In April, Moscow hosted the defense ministers of Turkiye, Syria and Iran for talks that it said focused on "practical steps to strengthen security in the Syrian Arab Republic and to normalize Syrian-Turkish relations."

In a separate development, the Arab League agreed on Sunday to reinstate Syria, ending a 12-year suspension that followed Assad's brutal crackdown on initially peaceful pro-democracy protests in 2011.