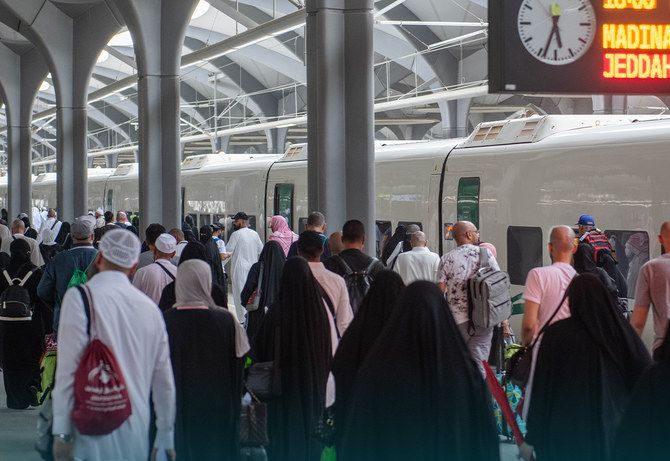 Saudi railway passenger traffic more than doubles to 2.2m in Q1 
Railway passenger traffic more than doubled in the first three months of the year, as Saudi Arabia Railways recorded 104 percent growth in the total number of passengers to 2.22 million, compared to the same period of last year, affirming massive growth in the Kingdom's transport sector.
The number of journeys on the North, East, and Haramain High-Speed Rail networks reached 8,036 during the first three months of 2023, representing a yearly increase of 54 percent, Saudi Press Agency reported, citing SAR's latest operational results.

According to the report, the volume of goods transported on the Kingdom's railway network reached 5.83 million tons during the first quarter of 2023, up 7 percent from the same quarter of the previous year.

This comes as the Saudi railway network's preparedness reached nearly 100 percent during the first three months of 2023.

Earlier in April, SAR revealed that the Kingdom's Haramain High-Speed Railway carried more than 818,000 passengers over 2,540 journeys during Ramadan, a 265 percent increase over the same period last year.

SAR added that the number of daily trips operated during the holy month exceeded 115, with a commitment rate of more than 97 percent.

In the same month, SAR also signed a memorandum of understanding with Italy's Arsenale Group to host the Middle East's first luxury train.

The MoU came amid the Kingdom's efforts to boost its tourism sector in line with Vision 2030 goals to diversify its economy away from fossil fuels.

Upon launch of its operations, the network is expected to provide a unique and luxury transport means for domestic tourists and international visitors to explore various attractions in Saudi Arabia.

This falls under the Kingdom's National Tourism Strategy, which aims to attract 100 million visitors by 2030 and increase the tourism sector's contribution to the gross domestic product to more than 10 percent. The strategy also eyes creating an additional 1 million job opportunities in the Kingdom.