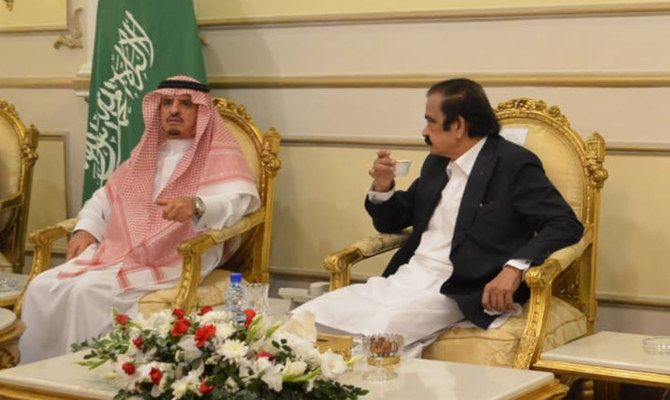 Saudi minister signs Road to Makkah agreement in Pakistan
Saudi Deputy Interior Minister Dr. Nasser Al-Dawood signed an agreement on the Road to Makkah project at the Pakistani prime minister's house on Wednesday, paving the way for Pakistanis to benefit from an initiative aimed at facilitating Hajj for pilgrims from across the Muslim world.
The Road to Makkah initiative is part of Saudi Arabia's Guests of God Service Program, which King Salman inaugurated in 2019 under the Kingdom's Vision 2030 to diversify the economy. Under the scheme, Hajj pilgrims go through immigration facilities at their respective countries' airports.

"Approximately 26,000 Pakistanis will benefit from this project through Islamabad airport. The Saudi immigration and customs will be done at Islamabad airport, allowing the travelers to reach their accommodations in Saudi Arabia in a short time," Religious Affairs Ministry spokesperson Mohammed Umer Butt told Arab News.

The ministry is "striving" to expand this facility to other cities of Pakistan in the coming years, Butt said.

Al-Dawood is on a two-day visit to Pakistan and met Prime Minister Shehbaz Sharif, as well as the interior minister, the federal minister for narcotics control and the army chief.

The Saudi official arrived in Islamabad on Tuesday and held detailed discussions about Hajj arrangements with Pakistan's Religious Affairs Minister Sen. Talha Mahmood.

"They exchanged views on various matters of mutual interest, including the (Road to Makkah) project, arrangements for Hajj, and other areas of cooperation," a statement issued after their meeting said.

Saudi Ambassador Nawaf bin Said Al-Malki also hosted a dinner reception at the embassy on Tuesday night where Al-Dawood and members of his delegation interacted with the Pakistani interior minister, Rana Sanaullah Khan, and other cabinet members.

Saudi Arabia restored Pakistan's pre-pandemic Hajj quota of 179,210 pilgrims earlier this year and eliminated the age restriction of 65.

Authorities estimate approximately 80,000 Pakistani pilgrims will participate in Hajj this year under the government scheme, while over 91,000 will use private tour operators.

As per the Pakistani Religious Affairs Ministry, Hajj flights from the country will commence on May 21, with the final flight departing for Saudi Arabia on June 21.