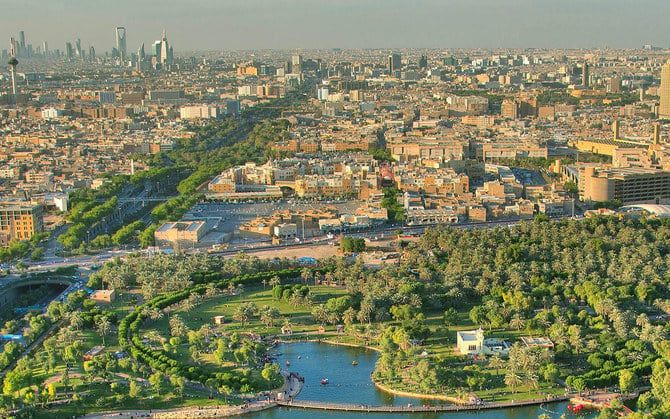 Saudi Arabia spearheading the energy transition in Middle East
The need for energy security has never been more critical in the history of mankind. Amid heightened political tensions, energy diversification programs and sustainability initiatives are a key part of the global agenda today, and countries are working hard to achieve their net-zero targets within the stipulated deadline.
As the world continues its journey to achieve zero emission targets, Saudi Arabia, a country that has been dependent on oil for several decades, is spearheading the energy transition mission in the Middle East region.

Saudi Green Initiative and the wider Middle East Green Initiative are revolutionizing the entire green journey in the region, and they are adequately supported by the Public Investment Fund's Regional Voluntary Carbon Market Co. which auctioned off 1.4 million tons of carbon credits during the 6th edition of the Future Investment Initiative conference held in Riyadh in October last year.

And now, Riyadh is all set to host the 44th International Association for Energy Economics International Conference on Feb. 4-9 as the entire world is looking forward to the developments the region will witness during the event.

Paul Sullivan, lecturer at Johns Hopkins University and a senior associate fellow at King Faisal Center for Research and Islamic Studies Energy and Environmental Security, told Arab News that Saudi Arabia is steadily progressing with greater energy efficiency and resilience, in line with the goals outlined in Vision 2030.

"Saudi Arabia is progressing via Vision 2030, the Saudi Green Initiative, leading the Middle East Green Initiative, inter alia. It is making progress with solar energy. It will do a lot more on the many colors of hydrogen. It will likely start to develop a nuclear energy program further," said Sullivan.

Joe Rahi, partner, McKinsey & Co., told Arab News that Saudi Arabia is playing a key role in ensuring an orderly energy transition.

"Saudi Arabia accounts today for the largest share of global oil exports — and it has the potential to become a significant exporter of clean, reliable and affordable energy in the future," said Rahi.

He further pointed out that the Kingdom has unique access to competitive natural resources both in the form of natural gas to produce blue hydrogen, as well as solar resources and land to develop green hydrogen.

Meanwhile, Saudi Arabia's ACWA Power and its partners are working steadily in NEOM to complete the construction of the world's largest green hydrogen project.

In 2022, NEOM's CEO Nadhmi Al-Nasr had noted that the first phase of its green hydrogen facilities is expected to come online in 2025. The $500-billion megacity will be powered entirely by clean energy and will cover 10,000 sq. miles, an area 33 times the size of New York.

Sullivan further noted that Saudi Arabia could be the leader of energy transition in the region by developing joint investments, research programs, training and education throughout the Middle East and North Africa region.

"The region and the world really are small. Much more can be learned by working together and not against each other. Just giving money is not enough. The whole region needs to move forward in all aspects of the transition and how the transition affects the energy-water-food-security-economy nexus," said Sullivan.

Rahi pointed out that Saudi Arabia should create national champions who can develop, produce and scale low-carbon energy to achieve energy transition goals.

According to Rahi, countries in the Middle East could promote investments to scale the supply of carbon capture, utilization and storage technologies along with low-carbon hydrogen and ammonia.

"The region has significant untapped potential here since the geological characteristics of its sedimentary basin could make it a global hub for carbon storage," he said.

Rahi added: "Stakeholders could boost the development of renewables, including upgrading the supporting infrastructure. Incentives could help accelerate the move to electrification and energy efficiency in buildings, industry and the transportation sector."

He further noted that the energy transition in the region is creating an opportunity to innovate, which includes creating a startup ecosystem for clean technologies.

Reiterating the views of top industry experts, Sullivan noted that energy transition in a sustainable manner will not happen quickly, and it demands time to materialize the green goals.

"All major transitions take time. The energy transition is no different. It has to be timed and developed for every place in a way that allows peace, prosperity, energy security and climate security," said Sullivan.

He added: "If it is pressed on too quickly, severe energy, economic insecurity and instability could result. If it is allowed to be delayed too long, then the world and regional climates and environments could be significantly damaged. Extremism is the enemy of energy transitions, much like it is the enemy of society in general."

Rahi opined that affordable conventional energy is still required to ensure socioeconomic growth, especially for developing countries, and added that low carbon and renewable energy such as hydrogen and solar will continue to play an increasingly important role in the growing energy system.

"To move to large-scale deployment of renewables, countries would also need to invest in grid stabilization and storage to ensure the reliability of supply and integrate renewables into existing systems," he added.

As Saudi Arabia continues its sustainability journey, events like IAEE International Conference could catalyze the speed of the energy transition, which will ultimately make the world green and beautiful for humankind.