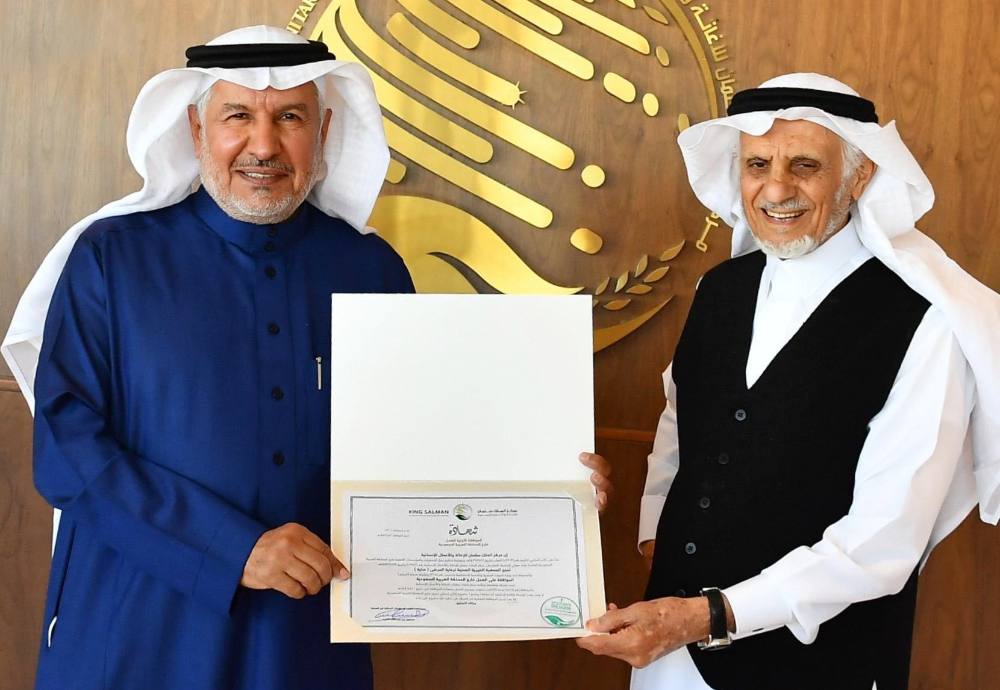 Saudi aid agency hands over external work approval certificate to ENAYAH society
The King Salman Humanitarian Aid and Relief Center on Monday gave a certificate of initial approval for work and service provision outside the Kingdom to the Charitable Health Society for Patients Care (ENAYAH), with the activities falling under the supervision, follow-up and control of the center.
The certificate was handed over by Royal Court adviser and the supervisor-general of KSrelief, Dr. Abdullah bin Abdulaziz Al-Rabeeah, to the chairman of the board of directors at the society, Dr. Abdulrahman bin Abdulaziz Al-Suwailem, the Saudi Press Agency reported.

The move aims to help implement the Saudi leadership's directives to boost the contribution of the nonprofit sector in various fields, including activating its role by participating in external humanitarian and relief work and enhancing joint and strategic cooperation among sectors. This will contribute to achieving the goals of the Kingdom's Vision 2030. The center is focused on helping needy communities worldwide.

Last Tuesday, the center launched a voluntary medical campaign for pediatric open-heart surgeries in Tanzania. During the first day of the campaign, the KSrelief medical team performed six successful cardiac surgeries.

Earlier, in Yemen's Marib governorate, the center distributed urgent shelter materials to displaced families in Al-Wadi district.

The aid included 200 tents and 200 shelter bags, benefiting 1,200 people. In November, the center signed a joint memorandum of cooperation with the General Authority for Awqaf in Riyadh.

The agreement, signed by Al-Rabeeah and the minister of human resources and social development and chairman of the General Authority for Awqaf, Ahmed Al-Rajhi, aims to establish an endowment fund for humanitarian, relief and charitable work.