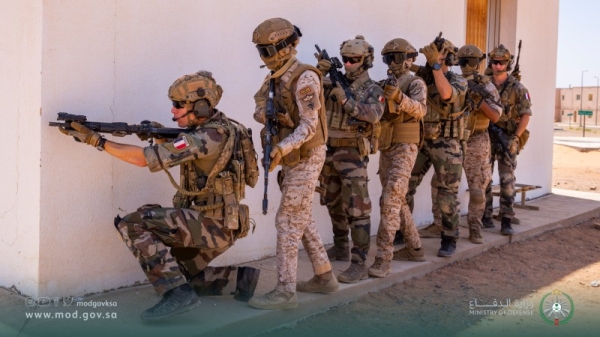 RSLF, French land forces kick off 'Santol 2' drill
The special operations units from the Royal Saudi Land Forces (RSLF) and the French Land Forces began in northwestern Saudi Arabia their mixed military exercise "Santol 2" in the framework of cooperation, coordination and exchange of experiences between the Kingdom and France.
The exercise is part of the military exercises that the Saudi armed forces conduct throughout the year with the forces of friendly countries, with the aim of raising combat readiness, gaining more field experience and working to unify military concepts and terminology between the parties participating in the exercise.

The Assistant Commander of the Northwest area for Operational Affairs, Major General Khalid bin Mohammed Al-Khashrami, stated that "the exercise, which will last for several days, aims to strengthen the bonds of cooperation and joint action, and exchange experiences in the military fields, which contribute to raising the combat capability and increasing coordination between the Saudi armed forces and the friendly French armed forces.

He also said that the readiness, preparations and operational plans for this exercise were carried out with professionalism between the two sides, according to the highest levels of safety followed in such exercises. He said using simulators and live ammunition by various ground units, the RSLF seek to achieve the general and tactical goals set for the exercise.

Several joint exercises were held between the Royal Saudi Land Forces and the French Land Forces, in which the two sides demonstrated high levels of professionalism, reflecting the state of military cooperation between the armed forces of the two countries, which was built decades ago on solid foundations based on the close bilateral ties.