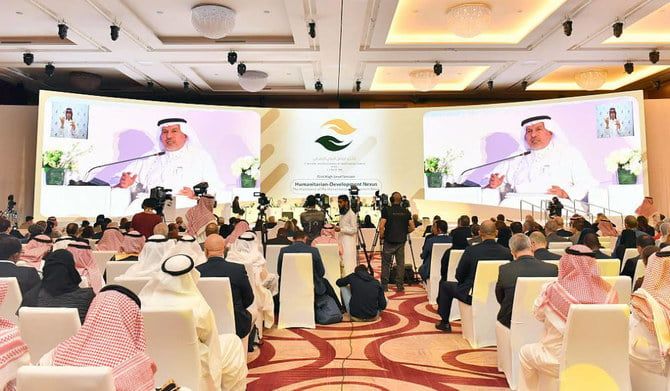 Riyadh forum to discuss global humanitarian challenges
Under the patronage of King Salman, the King Salman Humanitarian Aid and Relief Center is organizing the third Riyadh International Humanitarian Forum on Feb. 20-21 in Riyadh.
In partnership with the UN and its humanitarian organizations, the RIHF will be attended by humanitarian leaders, patrons and researchers from around the globe to promote dialogue on legislative, informational, and logistical mechanisms for delivering humanitarian aid.

The forum is titled "Evolving humanitarian needs and response," and it aims to keep up with the latest developments and measures related to humanitarian and relief work that take into account changes needed on the ground.

The two-day forum will offer specialized sessions, events and discussion panels that will cover significant axes related to the development of humanitarian work, including data collection and analysis to support humanitarian action, proactive measures and strengthening resilience in local communities.

Discussions will also touch on harnessing technology and digital transformation to serve humanitarian work.

The forum will contribute to encouraging and involving the youth to volunteer and commit to humanitarian work.

KSrelief organizes the RIHF every two years. The first forum was in 2018 with 32 speakers, while the second was held in 2020 with the participation of 50 speakers and 100 organizations from around the globe.

The forums addressed some of the world's most pressing global humanitarian challenges and presented best practices from leading humanitarian actors.

The third RIHF will provide an opportunity to reflect on global humanitarian practices and policies, while also highlighting practical solutions from the field to drive meaningful change and deliver assistance more efficiently.

KSrelief has implemented 2,246 projects worth over $6 billion in 88 countries, in cooperation with 175 local, regional and international partners, since its inception in May 2015.

According to a recent report by the center, the countries and territories that benefited the most from aid were Yemen ($4.2 billion), Palestine ($369 million), Syria ($341 million) and Somalia ($232 million).