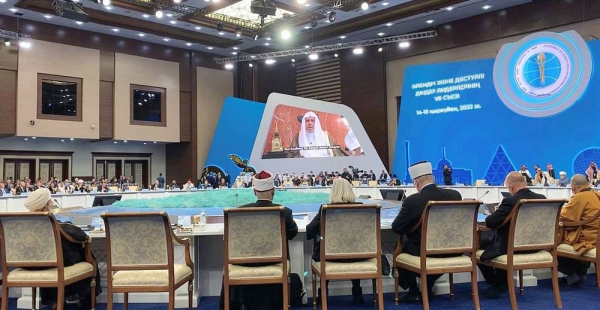 Makkah Declaration praised for promoting peace, dialogue, cooperation, and mutual respect
The final statement of the seventh Congress of Leaders of World and Traditional Religions praised the historic Makkah Declaration, which was signed by the grand Imams and Muftis of the Islamic world, scholars and thinkers in Makkah, stressing its importance in promoting peace, dialogue, cooperation, and mutual respect, for the good of humanity.
The Congress, which brings together more than 100 delegations of major religious leaders influential on the international scene in the presence of Kazakh President Kassym-Jomart Tokayev, concluded here Saturday.

Secretary of the Muslim World League (MWL) and Chairman of the Association of Muslim Scholars Dr. Mohammed Bin Abdul Karim Al-Issa delivered a video call at the opening session of the conference, in which he addressed the importance of "common values" and the impact of religious diplomacy in promoting these values.

In the speech, he reiterated the importance of dialogue and conscious civilizational and cultural communication, and that most conflicts throughout human history have been the result of ideas on religions, which only express the orientations of their beholders.

The Islamic activities participating in the conference praised the Makkah Declaration, in addition to what was cited by all followers of religions and cultures in the final statement of the conference.

This is a great recognition of the qualitative historical achievement of this Declaration, which is a significant turning point in contemporary Islamic history, in its legitimate and intellectual context which embraces all Islamic sects.

The Makkah Declaration was celebrated on various international platforms with its religious and cultural diversity and was adopted by the Islamic countries at the meeting of their foreign ministers in Niamey, Niger.

The document became a reference in training imams in several countries and was considered with great appreciation for Custodian of the Two Holy Mosques King Salman, who patronized its international conference held in Makkah in 2019, organized by MWL, and signed by 1,200 muftis and scholars and more than 4,500 Islamic thinkers.