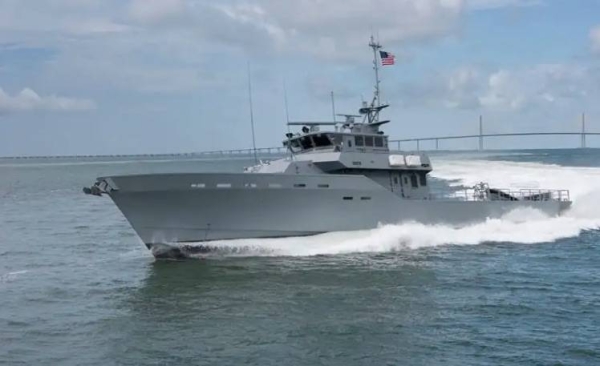 Lebanese Navy saves 50 people seeking illegal immigration from sea
The Lebanese Navy personnel saved 50 people and a dead baby from the sea off the northern coast after making a futile bid for illegal emigrate aboard a boat in choppy waters.
The Lebanese Army said in a statement early on Sunday that the boat was overwhelmed with high waves off the northern shore of Al-Qalamoun, shortly after it set sail on the illegal journey.

The overloaded boat got stranded in the rough seas amid the high waves, the army statement said, adding that the military and naval units with employment of helicopters, towed the ill-fated boat to shore and provided immediate medical aid to the stricken passengers.

Many injured people were whisked to hospitals, mostly located in the nearby city of Tripoli. The official National News Agency said relief personnel combed the waters off the northern shores, early Sunday, to look for other survivors, hours after the boat encountered the accident, around iftar (dusk) time Saturday.

There were some 70 persons, Lebanese and Syrians, aboard the boat including women and children. The accident is the latest of a chain of such tragedies in a country witnessing an unprecedented economic crisis, marked with mounting unemployment, soaring inflation and dwindling value of the national currency.

The Lebanese Red Cross sent more than a dozen ambulances to the scene, and the army closed off the port area including to families of the migrants.

The Lebanese and refugees attempted the dangerous sea crossing to Europe to seek relief from the Lebanon's severe and ongoing economic crisis. Most migrants leaving Lebanon usually head first for Cyprus, a member of the European Union.

Minister of Public Works and Transport Ali Hamieh said that people on board were illegal immigrants that left Al-Qalamoun port.

Director of Tripoli port Ahmed Tamer reported that 17 people were rescued, while the lifeless body of a little girl was discovered, with dozens still missing.

"Search operations are ongoing for the rest," Hamieh, who is supervising the rescue operations, said by telephone.

Migrants have been paying thousands of dollars to smugglers to take them to Europe hoping for a better life. Hundreds have made it to European countries, while dozens of others were stopped and forced to return home by the Lebanese navy. Several people lost their lives on the way to Europe over the past three years.

Lebanon, a small Mediterranean nation of 6 million people, including 1 million Syrian refugees, is in the grip of the worst economic crisis in the country's modern history. The economic meltdown has put more three-quarters of the country's population into poverty.

The World Bank describes the crisis as among the worst in the world since the 1850s. Tens of thousands of people have lost their jobs and the Lebanese pound has lost more than 90% of its value.