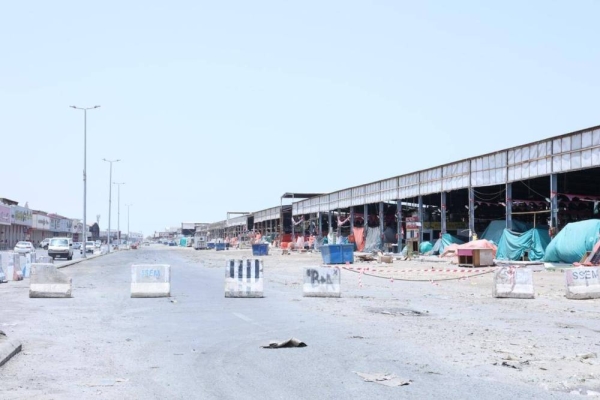 Jeddah Mayoralty shuts entrances to Al-Sawarikh Market following fire incidents
The Jeddah Mayoralty closed on Monday the entrances to Al-Sawarikh Markets Complex in the south of Jeddah governorate that witnessed two fire incidents in over a week. The Rahmaniyah Market gutted in the first fire on May 12 while the second fire on May 21 resulted in the burning of the Falcon Market.
The mayoralty's action came after the detection of some violations. Upon investigation into the fire, the authorities found that Al-Sawarikh witnessed several fire incidents over the past period. They also detected several violations, mainly display of merchandise outside shops, sale of used clothes, and display of expired foodstuffs by stalls operating in an unorganized way.

According to the mayoralty sources, any site that poses danger or causes fire or fails to fulfill safety and firefighting requirements or does not have a permit for running shops, will be dealt with sternly through removing the violations or taking measures that the responsible authorities deem appropriate.

Al-Sawarikh Market Complex, which is located on an area covering more than 9,000 square meters, consists of 26 commercial complexes that engage in diverse business and commercial activities.

According to market specialists, the volume of sales in the market reached $400 million annually. The sales and shopping activities recorded a big increase during the weekend, especially during Ramadan and the beginning of the academic year.

No one was hurt in the fire incidents that occurred in over a week. The Civil Defense officials, in coordination with the concerned authorities, started probe to find out the causes of the fire.

The market, popularly known as Harraj, is famous for diverse goods at very low prices compared to shopping malls in the city. There are more than 100 shops selling clothing, electrical and sanitary appliances, household appliances and kitchenware, furnishings, and foodstuff where hundreds of vendors selling goods outdoors, especially along the pavements.