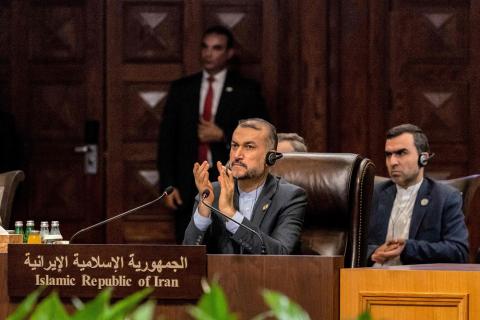 Iran Says Respecting its 'Red Lines' Will Lead to Nuclear Agreement
Iranian Foreign Minister Hossein Amir-Abdollahian announced that Tehran is ready to reach an agreement with Western powers regarding its nuclear file if "red lines are respected."
Amir-Abdollahian stated that he had a "friendly conversation" with his counterparts in neighboring countries on the sidelines of the second Baghdad Conference for Cooperation and Partnership in Jordan.

The minister tweeted that he attended the summit to support Baghdad, adding that he met his counterparts from Oman, Qatar, Iraq, Kuwait, and Saudi Arabia, adding that the Saudi minister asserted his country's readiness to continue dialogue with Iran.

Saudi Arabia and Iran began a dialogue in Baghdad in April 2021 to improve relations that were severed in early 2016. However, the talks have stalled in recent months, and the last round was in April 2022, reported Agence France-Presse.

In July, Baghdad announced it was preparing for a public meeting between the Iranian and Iraqi foreign ministers, but a date still needs to be set.

In November, Iranian Foreign Ministry spokesman Nasser Kanaani confirmed that Tehran would continue to pursue diplomatic efforts with Riyadh.

Minister of Security Esmail Khatib said, in an interview to the website of Iran's Supreme Leader Ali Khamenei, that "our fate and the rest of the regional countries are interconnected."

Amir-Abdollahian told reporters in Jordan: "Whenever Saudi Arabia is ready to return to normal relations, Iran would welcome that."

The FM was accompanied in Amman by his deputy Ali Bagheri Kani Ali Bagheri. Amir-Abdollahian held a two-hour meeting with Josep Borrell and Enrique Mora, the European Union's foreign policy officials.

"In the past two to three months, the US made hypocritical statements and took action that did not match their words," the FM said about the nuclear talks.

Washington "has repeatedly claimed it is ready to take the final step of all parties returning to the agreement in Vienna, but they behaved hypocritically in the media," he added.

Amir-Abdollahian stated that the parties to the talks are returning to "realism," noting that if "red lines are respected, we are ready to take the final steps to reach an agreement."