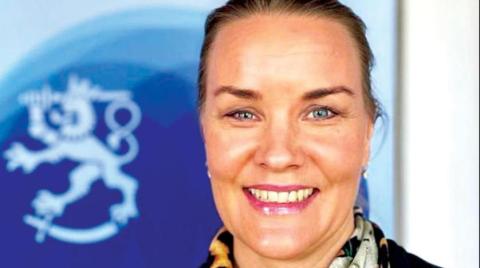 Finland Looks for Strategic Partnership with Saudi Arabia in Hydrogen, Green Energy Fields
At a time when Finland is looking forward to maximizing its strategic partnership with Saudi Arabia, a Finnish diplomat revealed that Helsinki is looking to intensify student exchange, tourism, investments, and trade with Riyadh in the coming period.
Huge projects included in Saudi Arabia's national transformation plan, Vision 2030, offer large-scale business opportunities for various Finnish companies, noted Anu-Eerika Viljanen, the Finnish ambassador to Saudi Arabia.

"Finland will be an excellent partner in achieving the goals of the Kingdom's Vision 2030 in a number of areas," Viljanen told Asharq Al-Awsat.

Viljanen emphasized that Finland is a global leader in information and communication technology, digitization, education, health care, renewable energy solutions, the games industry, and hospitality.

"Our economies and commercial sectors complement each other," explained Viljanen.

Saudi Arabia is the most important export destination for Finland in the Gulf region, she revealed, adding that her country's exports to the Kingdom amounted to 298 million euros in 2021.

According to Viljanen, new areas of cooperation between the two countries include: games, electronic sports, health, and well-being. Saudi Arabia and Finland, however, are looking forward to intensive cooperation in various other sectors soon.

Moreover, the tourism sector plays a fundamental role in the Kingdom's Vision 2030, which has generated a wide range of various short and long-term projects under construction in Saudi Arabia.

"There is plenty of room for an increase in tourism from Finland to Saudi Arabia and vice versa," noted Viljanen, revealing that cooperation in the fields of electronic industries, technology, mining, green economy, hydrogen, and renewable energy was also progressing.

"All these areas hold great potential for cooperation between our two countries," she asserted.

"Finnish companies have strength in areas of AI and digitization such as 5G networks, bio-networks, circular economy, green energy production, mining technology and mineral processing in a sustainable way," added Viljanen.

Viljanen's statements come at a time when several successful high-level visits were conducted between Saudi Arabia and Finland.