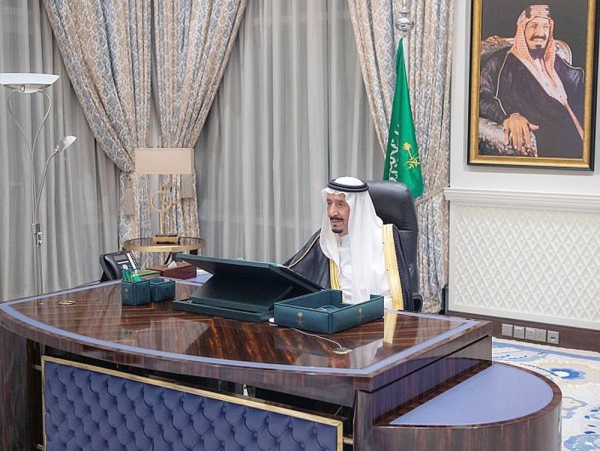 Cabinet approves privatization rules
The Cabinet, headed by the Custodian of the Two Holy Mosques King Salman, approved on Tuesday the rules governing privatization.
At the outset of the session, the Custodian of the Two Holy Mosques thanked Allah Almighty for the bestowed blessings on the Kingdom of Saudi Arabia and the honor in serving the Two Holy Mosques and their visitors.

The King on the occasion of the 91st National Day said that he looks forward to more accomplishments to achieve further progress and prosperity for this country, whose pillars were laid by the late founder King Abdulaziz and continued to grow and empower under the leadership of his sons after him, to be the land of progress, beacon of civilization and home of justice, and a spot that spreads and promotes peace in the whole world.

Then, the Cabinet was briefed on the recent talks and meetings that took place between the Saudi Arabia and a number of countries, including the content of the message that the Custodian of the Two Holy Mosques sent to Algerian President Abdelmadjid Tebboune, dealing with the historical fraternal relations between the two countries and ways to enhance joint cooperation.

The Cabinet touched upon Saudi Arabia, UAE, UK and the US affirmation of commitment to a comprehensive political solution to the crisis in Yemen, their full support for the UN Special Envoy, as well as their call on the Yemeni government to take all necessary steps as soon as possible in order to start achieving economic stability in Yemen.The Cabinet reiterated Kingdom's support for international efforts aimed at preventing Iran from acquiring nuclear weapons and strengthening the Non-Proliferation Treaty in the region and the world.

This is in addition to the Kingdom citing, during the session of the Board of Governors of International Atomic Energy Agency (IAEA), Iran's continued flouting of the IAEA's safeguards and its non-commitment to the IAEA's Additional Protocol by working on expanding and developing its nuclear capabilities.

The Cabinet reviewed Saudi Arabia's activities during the week, including the launch of the Human Capability Development Program (HCDP), one of Vision 2030 realization programs, whereas the program represents a national strategy to strengthen citizens' capabilities locally and globally by seizing promising opportunities resulting from accelerated and renewed changes around the world.

The Cabinet authorized the Chairman of the Board of Directors of the Saudi Space Commission to discuss and sign with the United Nations Space Generation Advisory Council regarding a draft memorandum of cooperation between the Saudi Space Commission of Saudi Arabia and the United Nations Space Generation Advisory Council.

It authorized the Chairman of the Board of Directors of the Saudi Space Commission — or his representative — to sign the joint Declaration of Interest for a Space Climate Observatory.

The Cabinet approved a mechanism of work and governance for the conclusion of trade and trade-related agreements.