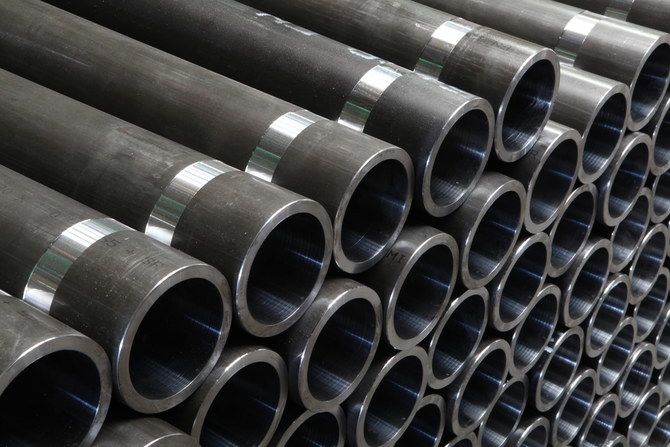 Aramco signs 3 deals with key steel pipe manufacturers in Kingdom
In a bid to secure a substantial supply of steel pipes, Saudi oil giant Aramco has signed three contracts estimated at around $493 million with the Kingdom's leading steel pipe manufacturers.
East Pipes Integrated Co. has been awarded a contract to manufacture and supply steel pipes to the oil company, following a deal worth SR1.8 billion ($479.9 million), according to a bourse filing.

The financial impact of the 12-month agreement is likely to be felt in the third and fourth quarters of the current fiscal year as well as in the first quarter of the next financial year.

On Sunday, Saudi Steel Pipe Co. announced on Tadawul that it secured a contract worth SR50.2 million with Aramco for supplying oil-and-gas steel pipes. The five-month contract's financial impact is expected to be felt in the current fiscal year's third quarter.

Group Five Pipe Saudi Co. also disclosed the signing of a deal with Aramco through a Tadawul filing on Monday without providing details.

Following Monday's announcements, the share prices of Saudi Steel Pipe, East Pipes Integrated, and Group Five Pipe Saudi rose by 3.41 percent, 9.93 percent, and 4.86 percent, respectively, as of 12:45 p.m. Saudi time.

Established in 2010, East Pipes Integrated specializes in producing helical submerged arc-welded pipes. The company boasts an annual production capacity of up to 500,000 tons of pipes, primarily used in water, oil, and gas projects.

Meanwhile, Saudi Steel Pipe focuses on the manufacture and provision of electric-resistant welded steel pipes, with a reach extending to more than 20 countries and Group Five Pipe Saudi specializes in spiral pipes, maintaining five production lines with an annual capacity of 500,000 metric tons.

Last September, Saudi Steel Pipe secured a $40 million contract from Aramco, with financial results anticipated to appear in this year's second and third quarters.