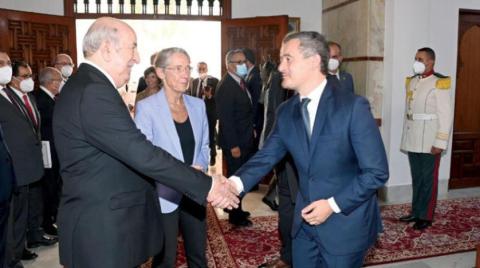 Algeria Stops Immigration Cooperation with France over Bouraoui Case
The Algerian government did not react to complaints in France regarding a decision to stop the issuance of consular permits, which allow the deportation of irregular immigrants.
Observers noted that the visa crisis between the two countries would resurface, after a few weeks of a brief breakthrough that followed President Emmanuel Macron's visit to Algeria at the end of August.

The Algerian authorities did not respond to statements made by the head of Les Républicans party, Eric Ciotti, before Parliament on Tuesday, saying that Algeria had stopped issuing consular permits for the French authorities.

This came two months after the end of a sharp dispute that lasted a year and a half, over a decision by Paris to reduce Algeria's share of visas, under the pretext that its consulates in France refuse to grant administrative approvals, which are required by the Ministry of the Interior to expel thousands of irregular Algerian immigrants residing on French soil.

Algeria had protested the "exaggerated figures" by Paris regarding the number of its clandestine immigrants.

According to Ciotti, France cannot expel more Algerians who reside illegally on its territory, on the basis that Algeria stopped the procedures for issuing consular permits. The deputy called on the Minister of the Interior, Gerald Darmanin, to "stop the visa procedures granted to Algerians," which were resumed following the latter's visit to Algeria on Dec.18.

Algerian political sources confirmed to Asharq Al-Awsat that Algeria's reversal of its decision to issue consular permits was due "the case of the Franco-Algerian opposition activist Amira Bouraoui."

On Feb. 8, Algeria summoned its ambassador to Paris, Said Moussa, for "consultations," and accused French intelligence of "evacuating" the opposition activist and doctor from Tunisia, while she was under a travel ban in her country.

The woman, who also holds French citizenship, was prosecuted for "offending Islam" and insulting the president.

According to the same political sources, "stopping the issuance of consular permits is a form of Algeria's response to what it considers France's penetration of its soil to evacuate Bouraoui."

Algerian media had reported that a French intelligence colonel "orchestrated the operation," explaining that he was waiting for the opposition activist when she arrived at the airport in Lyon, France, coming from Tunisia, which the doctor strongly denied.