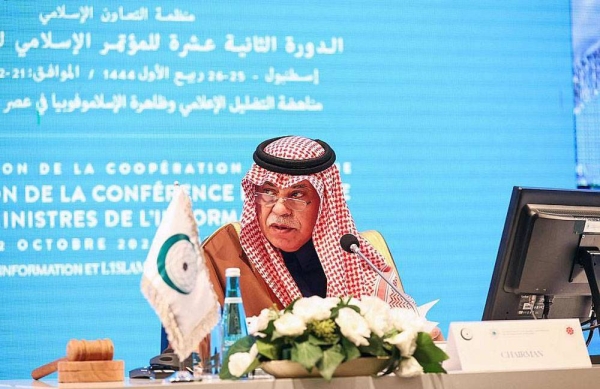 Al-Qasabi calls for road map development to enhance OIC joint media action
Saudi Arabia's Acting Minister of Media Dr. Majid Bin Abdullah Al-Qasabi, delivered a speech at the beginning of the 12th Session of the Conference of the Information Ministers of the Organization of Islamic Cooperation (OIC) hosted by the Republic of Türkiye in Istanbul on Oct. 21-22.
In his speech, Dr. Al-Qasabi conveyed the greetings and best wishes of Custodian of the Two Holy Mosques King Salman and Crown Prince Mohammed Bin Salman, prime minister, to the Conference.

He stressed that the political, economic, security and health challenges and crises the world is witnessing today require coordination and harmonization of efforts among the OIC member states to confront these challenges.

He pointed out that this meeting comes as an opportunity for joint media coordination among the OIC countries in light of the great transformation being witnessed by the media sector globally, which requires the creation of creative content that attracts attention and reaches the audience in a smart and fast way.

Dr. Al-Qasabi also pointed to the importance of the adoption by the 11th session of Conference of OIC Information Ministers of the decision to support all institutions of joint Islamic action, led by the Union of OIC News Agencies and the Islamic Broadcasting Union (IBU).

These two organs are currently witnessing tangible development in performance, and they are among the most prominent executive arms of joint media action and constitute a basic supporter for the implementation of the comprehensive media strategy of OIC until 2025.

He stressed that activating the joint media action of the OIC member countries requires a transparent evaluation of the current situation and that "we are honest in identifying our mistakes and the challenges we face, and that we set a road map with clear goals, reasonable targets, initiatives and chronic implementation mechanisms, and we define our priorities and build confidence to advance joint media action."

He also extended his sincere thanks to the OIC General Secretary Hissein Brahim Taha, and to all the staff of the OIC General Secretariat for their efforts to serve the joint Islamic action.

In the opening session, the Saudi Acting Minister of Media transferred the presidency of the conference to the Republic of Türkiye.

It is worth mentioning that Saudi Arabia had hosted the 11th session of the Conference of OIC Information Ministers in Jeddah on Dec. 21, 2016, which resulted in important decisions to support joint Islamic action in the field of media, and witnessed the adoption of the OIC media strategy.