American food vlogger Mark Wiens, who has more than 10 million followers on YouTube, recently visited the Kingdom to give his views on some of its many culinary delicacies.
The keen traveler was invited by the Ministry of Culture and Culinary Arts Commission to explore Saudi Arabia and experience the different cuisines its regions have to offer.

"Mark was welcomed by a research team from the Culinary Arts Commission who have in-depth knowledge of the culinary heritage of Saudi Arabia, to showcase the rich and diverse culture of Saudi cuisine around the Kingdom," the ministry told Arab News.

Wiens arrived in Jeddah in February on a Saudia Airlines flight from Bangkok. During the 10-hour journey he got his first taste of the Kingdom: Saudi coffee and dates.

"It is really yellow in color from the cardamom and saffron. So aromatic, so much cardamom in there. That's incredible," he said in his first video report of the trip.

"Since we flew on the late-night flight, it was breakfast that was served, which is typically not my favorite meal on an airplane. However, when it's full medames for breakfast, that's something I love," he said in the clip on his YouTube channel Mark Abroad.

While traveling around the Kingdom, Wiens was accompanied by various food experts and aficionados.

In Jeddah, he explored the deep-rooted culture of the coastal city with Hisham Baeshen, a talented chef who himself has more than 10 million followers on YouTube, Instagram and Snapchat.

Baeshen met Wiens by chance during a working trip to Georgia.

"We were sitting next to each other and I asked him to call me once he visits the Kingdom," Baeshan said.

The chef told Arab News he also took the American on a tour around Jeddah.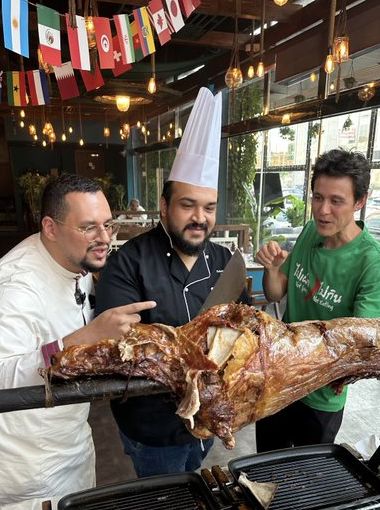 "The experience was delightful, he is a totally different personality, a very special foodie than those around the globe. Wiens is looking for the depth within the culture of any country he visits," he said.

Baeshan said Wiens told him he really wanted "to know how Saudis eat and to understand the essentials of Saudi cuisine."

"He wanted to explore how food is served in Saudi homes. I wanted to give him a feel of my culture so I took him to Baeshen House in Al-Balad," he said.

Baeshen House is one of the oldest buildings in Al-Balad — a historical area of Jeddah and UNESCO heritage site. Built in 1273, it became a cultural center in 2014 and represents the Saudi Hijazi culture.

"It is my tripe house and I wanted to give Wiens a brief view of our ancient culture," Baeshan.

Wiens described it as "a really fascinating place to explore."

While in Al-Balad, Baeshen took Wiens to Al-Basali, a seafood restaurant that has been around since 1949. The two men enjoyed a feast of delicacies from the Red Sea, including coral trout, trumpet emperor, lobster and shrimp.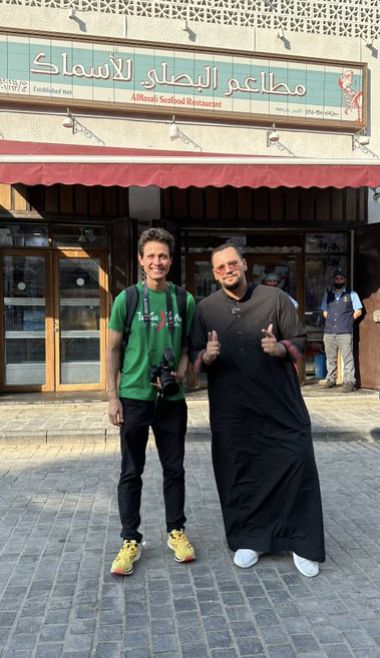 Later that day, the pair had mutabbaq for dinner at Olfat Al-Halawani. This is a popular street food made of a minced meat, chiles, herbs, spices and eggs wrapped inside a thin dough and baked on a hot pan. It can also be served with a sweet filling like banana, honey, sugar or chocolate.
Wiens also ate lamb head mandi, Hijazi ta'teema — assorted breads served with cheese and pickles — shakshouka, smoked foul with ghee, falafel and various sweet dishes such as masoob and labaniya.

After Jeddah, Wiens went to Al-Ahsa, an oasis in the Eastern Province, where he stayed with chef Fahad Al-Shuaibi.

Al-Shuaibi prepared kabsah hassawi using red hassawi rice — which grows only in Al-Ahsa and is the most expensive rice in the world — alongside khobz alhamar, a popular snack made of date paste, sunflower and black seeds and baked in a tandoor oven.

Al-Shuaibi also took Wiens to a red rice farm, about which Wiens said: "It is amazing to be in the middle of the desert and yet it is so lush and fertile because of the natural water that comes from the ground here."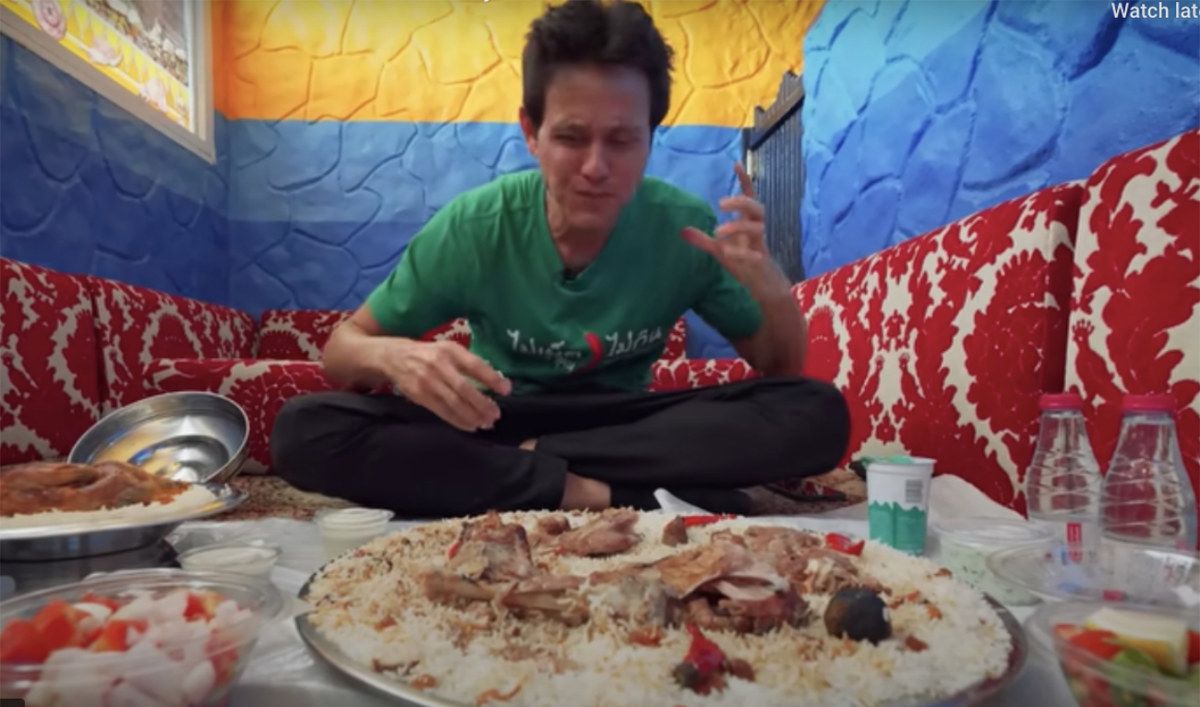 Wiens also visited the Qaisariah souq, a two-century-old spice market, where he wore a shemagh and learnt about bisht, the men's cloak worn over a thobe in Gulf countries.

The American also took a ferry to the Farasan Islands in the southern region of the Kingdom where he ate more seafood and street dishes, and in Riyadh tucked into haneethe, a roasted lamb dish.

When Wiens posted his review of Albaik restaurant in Jeddah in March it got more than 1.3 million views.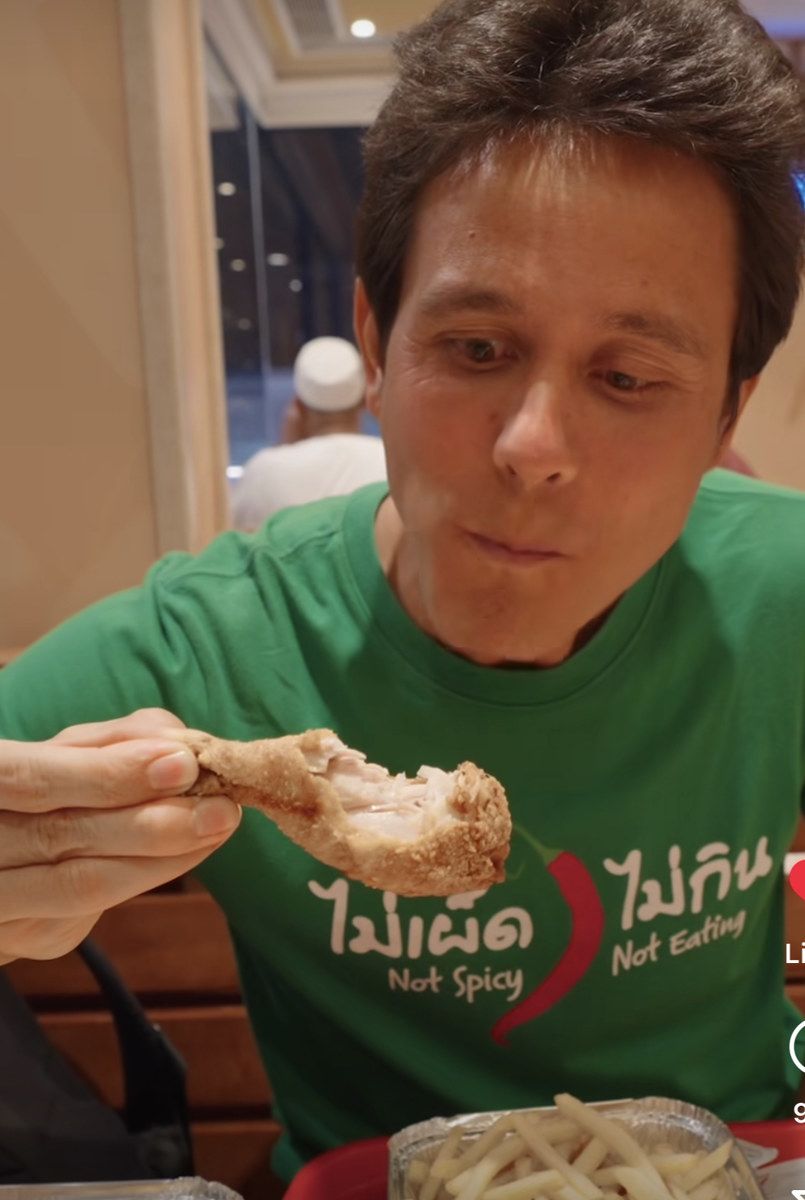 Describing the chicken he ate there, he said: "You've got to be kidding me. That has to be the juiciest fried chicken I have ever had in my life."