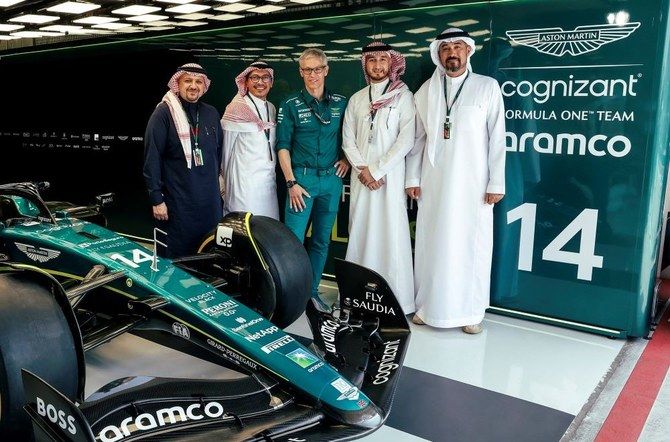 'We believe in the power of sport,' says Saudia marketing chief after partnering with Aston Martin Formula One Team
With the Saudi Arabian Grand Prix only days away, the Kingdom's national flag carrier, Saudia, has been announced as Official Global Airline Partner of the Aston Martin Aramco Cognizant Formula One Team for the 2023 season.
Formula One returns to Jeddah Corniche Circuit from March 17-19, with the showpiece race taking place on Sunday.

Aston Martin had a flying start to the new season, with Fernando Alonso taking a spectacular podium with a third place finish at the season opener in Bahrain on March 5, while Lance Stroll finished sixth.

Khaled Tash, Saudia Group chief marketing officer, spoke to Arab News about Saudia's history and future in Formula One.


On Saudia's partnership with Aston Martin

"Saudia has a long history of forming sport and event partnerships, and we are extremely excited to expand our portfolio with the Aston Martin Aramco Cognizant Formula One Team for the 2023 season. It is a huge milestone for Saudia to be associated with such a renowned name in the automotive and motor sport industry.

"At Saudia, we have always believed in the power of sports to unite people and create a borderless world. Since our creation in 1945, we have been highly selective in choosing top global sporting teams that share our vision to create a more interconnected world, whilst delivering exceptional experiences. We are proud to have partnered with Saudi Arabia's National Football team, the Saudi Cup, the boxing event "Rage on the Red Sea" and now the Aston Martin Aramco Cognizant Formula One Team."


On Saudia's successful history in Formula One with Williams

"Saudi Arabia was the first Middle East country to be involved in Formula One and Saudia has enjoyed a successful and beautiful history with motor sport, particularly with Williams Racing. Our association with Williams Racing began in 1978 and ran for almost two decades, during which time we enjoyed many successes.

"Formula One fans will remember that the Williams Racing team dominated the competition and won nine Constructors' Championships thanks to worldwide talent drivers like Alan Jones, Keke Rosberg, Nigel Mansell, Alain Prost, Damon Hill and Jacques Villeneuve.

"Saudia played a vital role in Williams Racing's victories and our partnership was one of the most successful sponsor-team collaborations in F1 history, paving the way for future partnerships within the motor sport industry.

"Our Kingdom's love story with F1 has even led us to hosting a race, the Jeddah Grand Prix, and who knows, we may one day have our own Saudi F1 team.

"We believe that our partnership with Aston Martin Aramco Cognizant Formula One Team provides a further opportunity for us to expand the reach of the sport and bring unforgettable experiences to fans everywhere."


On developing Saudi talent in motor sport

"Formula One and E are very important international events for us and we hope that such a significant partnership with one of the leading teams in the world, Aston Martin Aramco Cognizant Formula One, will inspire Saudi youth to further engage with the sport, providing them with new career prospects.

"By attending the races, seeing their country and biggest companies develop partnerships, invest in motor sport and racing infrastructures like the Jeddah Corniche, we not only want to give them a sense of pride, but also want to tell them that they can be part of that world and become mechanics, engineers, track assistants, team managers, event planners or even drivers themselves.

"This is why it is important for us to continue to partner with leading, global names. This is our commitment to delivering unforgettable experiences and opportunities, not only for our Kingdom, but for all.

"The country is undertaking a huge transformation and motor sport is definitely playing a crucial role in it."


On Saudia being involved with other major sporting partnerships or events

"As the 'Wings of Vision 2030' and being the national carrier, it is Saudia's responsibility to demonstrate and showcase the Kingdom's ambitions for the future, and this also comes through global partnerships like with the Aston Martin Aramco Cognizant Formula One Team.

"We have many projects in the pipeline and we'll announce them as soon as we are ready."