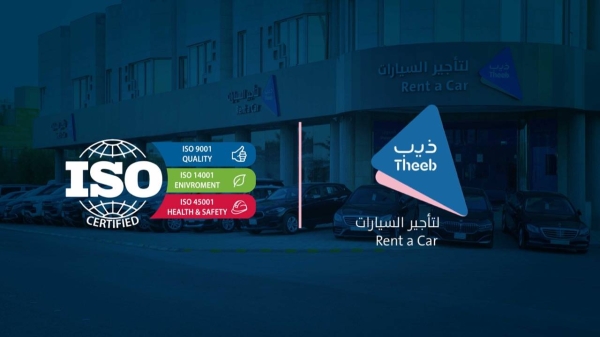 'Theeb Rent A CAR' keen to take ISO certificates again
Theeb Rent A CAR announced that it is keen to retake three international certificates again and the company has previously taken it before and it is well deserved.
The certificates are: ISO 14001 for an environmental management system, ISO 45001 for Occupational health and safety management system, and ISO 90011 for Quality management standards.

The company is keen to take these certificates as part of its strategic general frame for business excellence, and to follow-up the latest international systems in management and operation. In addition, it seeks to continue providing its distinguished services for its customers, whether individuals or companies, in a sustainable manner.

ISO 14001 objective is to help companies mainly to continually improve its environmental performance and compliance with any applicable legislation. As well, this certificate helps the company to determine its goals and performance standards. Furthermore, it highlights the role of the company in achieving these goals, and monitoring and measuring those goals.

The company can apply the standards at different levels in business, starting from the organizational level to the provided services level, as it contributes significantly in improving the environmental performance of the company in general through its compliance and applying these international recognized standards

ISO 45001 determines the standards of applying Occupational Health and Safety management system mainly the requirements of the Occupational Health and Safety management system to give the opportunity for companies to provide health and safe work places through providing an integrated system to prevent work-related injury and the Occupational Health and Safety protection.

Theeb Rent A Car is keen to take this certificate to confirm its ongoing obligation to take care of its workers and provide the best work environment to protect them from any risks that may be exposed during the practice of their work.

In regards to ISO 9001, for quality management standards, it helps the company to continue in meeting the customers' needs more effectively by managing its resources better and motivating their employees to raise the performance level more effectively.

Naif Al Theeb, CEO of Theeb, said "We are always keen in "Theeb Rent A Car" to follow-up and apply the latest versions of the international standards related to its work in order to comply with the highest and best service levels for its customers, implement all instructions and the most accurate standards, and coordinate among different departments and sections in the company. This reflects positively the quality of services and the efficiency of performance and excellence in all different branches and departments of the company. Hence, this helps us to support services we provide to our customers sustainability.

Al Theeb emphasised that "Theeb Rent A Car" deserves to obtain these international certificates as it provides outstanding services at the highest and best service levels in the domain of renting cars for companies and individuals and with all sizes and types that meet the demands and taste of its customers.

Theeb Rent A Car is one of the largest and pioneering companies in car rental sector. The company comprises a wide range of the solutions and services of vehicle rental through long and short-term rent. In addition, it comprises a wide base of customers from different categories and sectors, as well as individuals. Furthermore, the company has cumulative experiences with over 30 years where its business has launched in the domain of car rental since 1991 with more than 23 thousand vehicles.