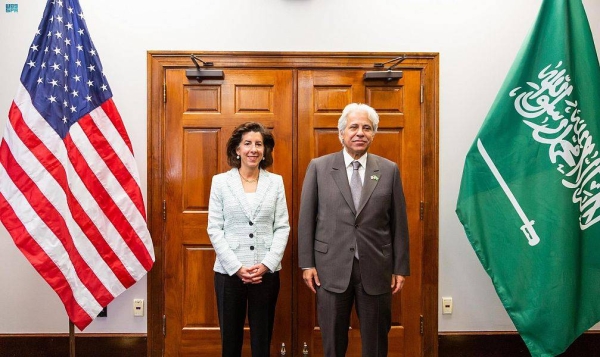 Saudi, US commerce ministers hold key talks
Minister of Commerce Dr. Majid Al-Qasabi held a meeting with US Secretary of Commerce Gina M. Raimondo in Washington over means to enhance economic and commercial relations between the two friendly countries.
Saudi Ambassador to the US Princess Reema bint Bandar bin Sultan was present at the meeting.Al-Qasabi, who heads a Saudi delegation on a visit to the United States, said the discussions came as part of both countries' keenness to increase bilateral coordination according to a joint action plan that can increase the commercial exchange opportunities in several promising economic sectors, such as: building the green economy, strengthening the role of women in doing business, developing small and medium enterprises (SMEs), and promoting innovation.

Later, Al-Qasabi held a meeting at the Georgetown University with Professor Jennifer A. Hillman, president of the World Trade Academy, and several officials at the university in the presence of the Saudi ambassador and Deputy Minister of Commerce and CEO of the National Competitiveness Center Dr. Eiman Al-Mutairi.

The meeting touched on the academy's experiments and other recently launched projects, such as the center of comprehensive trade and development, in addition to going over cooperation opportunities.

Al-Qasabi also met with President and Chair of the Board of Directors of the Export-Import Bank of the United States (EXIM) Reta Jo Lewis, in the presence of the Saudi ambassador, over means to enhance Saudi-US economic partnership.

The delegates also held bilateral meetings with several officials at the US Department of Commerce with the aim of institutionalizing and enhancing communication between the two sides at all levels, in addition to reviewing the top reforms implemented to increase Saudi Arabia's competitiveness.

The Saudi delegates and US officials discussed bilateral partnership and promising opportunities in the fields of hydrogen production and waste management, as well as promoting innovations through protecting intellectual property, enhancing the knowledge economy based on artificial intelligence, cloud storage, data flow, developing SMEs, and the role of women and their participation in economic development.

The delegation included Governor of the Saudi Standards, Metrology and Quality Organization (SASO) Dr. Saad Al-Qasabi and CEO of the Saudi Authority for Intellectual Property (SIAP) Dr. Abdulaziz Al-Suwailem, in addition to representatives from several ministries, the Small and Medium Enterprises General Authority (Monshaat), Saudi Authority for Data and Artificial Intelligence (SDAIA), the General Authority for Foreign Trade; National Competitiveness Center (NCC), Saudi Aramco and Saudi Investment Recycling Company (SIRC).