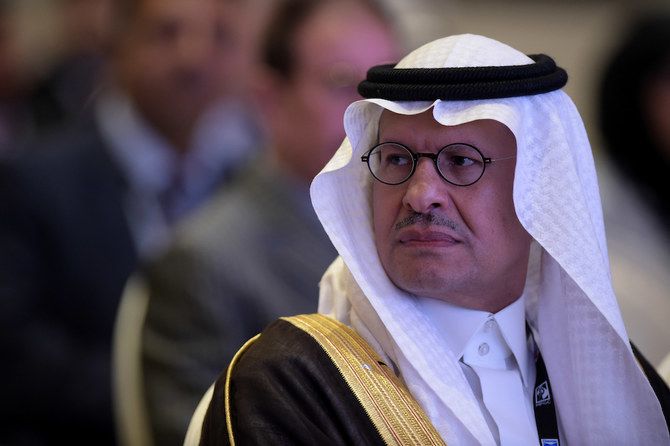 Saudi minister says energy cooperation with Arab, OPEC+ countries integral to global oil markets
Saudi Arabia's Minister of Energy Prince Abdulaziz bin Salman on Thursday said the Kingdom's interest in energy cooperation with Arab countries is an integral part of its policy to strengthen its deep relations in all fields.
Prince Abdulaziz said that this cooperation is embodied in coordination for joint Arab action in numerous projects, programs and initiatives, the Saudi Press Agency reported.

On the international level, he said there is coordination between the Kingdom and OPEC+ countries, which include oil producers from OPEC and outside, including a number of Arab countries.

This is considered the "cornerstone" of efforts to enhance the stability of global oil markets and maintain their balance and security of supplies to be able to support the growth opportunities of the global economy, he added.

Speaking ahead of 32nd Arab League Summit, which will be held on Friday in Jeddah, Prince Abdulaziz said: "On the occasion of the Arab Summit in Saudi Arabia, I am pleased to join King Salman and Crown Prince Mohammed bin Salman in welcoming the leaders of Arab countries and members of their accompanying delegations to their second country, the Kingdom."

He said that his country has signed a number of memorandums of understanding with several Arab countries in the energy sector, including Egypt, Oman, Jordan, and Iraq, which aim to enhance cooperation in the fields of electricity, renewable energy, clean hydrogen, petroleum and gas, petrochemicals, and other fields related to energy.

The minister added that there are also electrical interconnection projects between the Kingdom and Arab countries, and is connected to all the Gulf countries, as well as direct interconnection projects that are being implemented between the Kingdom and Iraq, Jordan, and Egypt.

These projects aim to enhance the security and reliability of interconnected national networks, increase their ability to absorb the entry of renewable energy projects, create a regional commercial market for the exchange and passing of electric energy to achieve optimal investment and operation of national
generation stations, export renewable energy and link the networks of the Middle East and North Africa, Prince Abdulaziz said.

He stressed that coordination and cooperation with Arab countries is continuous, whether through councils or joint committees in the various fields of energy and related issues.

This included exchanging expertise in electricity, renewable energy, efficient energy production and consumption, digital transformation in energy uses and its applications, climate change programs, and plans which include applying the circular carbon economy approach, emissions reduction techniques, and others.

He expressed hopes that the summit in Jeddah will be a new opportunity to achieve greater and more effective cooperation, integration and coordination between Arab countries in all fields.