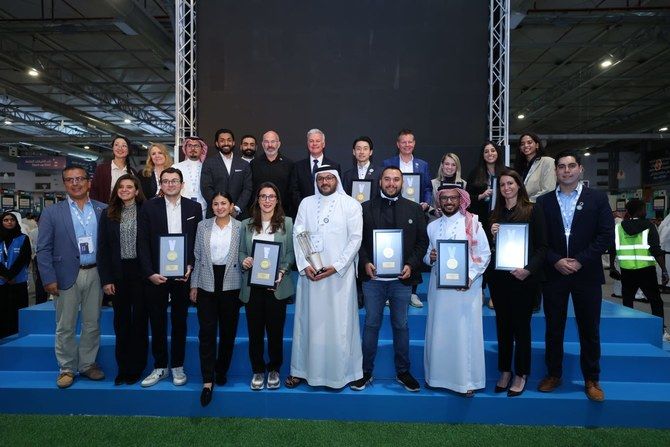 Saudi firm White Helmet wins Entrepreneurship World Cup at Biban 2023 
Saudi-based White Helmet, a firm that provides a platform to manage and monitor construction operations remotely, has won the Entrepreneurship World Cup at Biban 2023.
The company secured a cash prize of $300,000 and the title at one of the region's largest startup, small and medium enterprises and entrepreneurship conferences.

Another 10 startups from diverse countries won cash prizes ranging from $25,000 to $200,000 for their innovative solutions in what was a $1 million prize fund.

Founded in 2017, White Helmet has won several recent awards, including the Collaborative Innovation Award from the Kingdom's Communications, Space and Technology Commission as one of the top digital products in Saudi Arabia at the Digital Tech Forum in 2022.

In November 2022, the company also won the Technology Project Award at the Project Management Offices Summit, according to the company's website.

Touted to be one of the world's largest innovative pitch competitions, the Entrepreneurship World Cup is co-hosted by Global Entrepreneurship Network and Saudi Arabia's General Authority for Small and Medium Enterprises, also known as Monsha'at.

Since launching in 2019, the press release added that the competition had engaged more than 400,000 entrepreneurs from 200 countries and connected founders with over $4 million in cash prizes and another $266 million worth of perks and free support and services.

"We are proud to have a Saudi company named the champion of the latest edition of the EWC. We hope that this win will inspire more of our people to take that step forward and realize their entrepreneurial ambitions," said Sami Ibrahim Al-Husseini, governor of Monsha'at.

He added: "Saudi innovation and ingenuity has driven the advancement of the Kingdom's startup and SME ecosystem forward over the past years."

Jonathan Ortmans, president of GEN, said that these startups are "disrupting their industries and testing big ideas with the potential to transform our world."

This year's edition of the EWC attracted more than 30,000 founders, and 100 out of them were invited to pitch to a panel of international judges at the Global Finals after several qualifying rounds.

Meanwhile, this year's Biban conference hosted under the theme "Attract-Connect-Achieve" attracted over 105,000 participants. It also featured over 350 speakers sharing their insights about the SME ecosystem globally and regionally.

The event also hosted 300 workshops for over 20,000 beneficiaries.