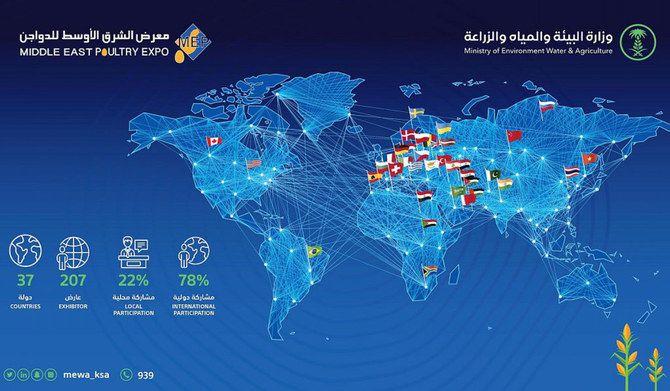 Riyadh poultry expo to promote Vision 2030 targets
Saudi Arabia will host the second Middle East Poultry Expo on May 1-3 under the patronage of Minister of Environment, Water and Agriculture Abdulrahman Al-Fadli.
The three-day expo, held at the Riyadh International Convention and Exhibition Center, will bring together more than 200 companies from 37 countries, as well as experts in the poultry, feed, and animal health sectors.

It aims to enhance investment opportunities in the poultry industry and provide an ideal platform to connect local investors with international suppliers and experts, achieving the national strategy for food security.

Governmental bodies and institutions, associations, companies and nonprofit organizations working in the livestock sector will display more than 500 products for the supply chains of the poultry industry, promoting scientific and commercial exchange, and building business networks in the largest poultry markets in the Middle East and North Africa.

The expo will showcase the latest innovations, solutions and technologies in the field of poultry breeding and production, animal health and the feed industry.

The expo is the most prominent event in the Kingdom and the region for the poultry industry. The event stretches over an area of 11,000 square meters, and includes exhibitions for poultry, feed, mills, as well as animal health and nutrition.

It will also be accompanied by a symposium on knowledge in the world of poultry, in which experts from major international companies will take part in scientific lectures highlighting the latest products and solutions that contribute to the growth and sustainability of the industry.

The Saudi poultry sector is one of the largest and fastest-growing in the region. There is significant government support for the industry, led by the Ministry of Environment, Water and Agriculture through loans and projects, raising the percentage of investment in the industry in cooperation with the private sector. A recent deal led to the planned investment of SR17 billion ($4.5 billion) into the industry until 2025.

The Kingdom is expected to meet 80 percent of its own poultry demands by 2025, increasing self-sufficiency in line with the Vision 2030 goal of achieving food security.