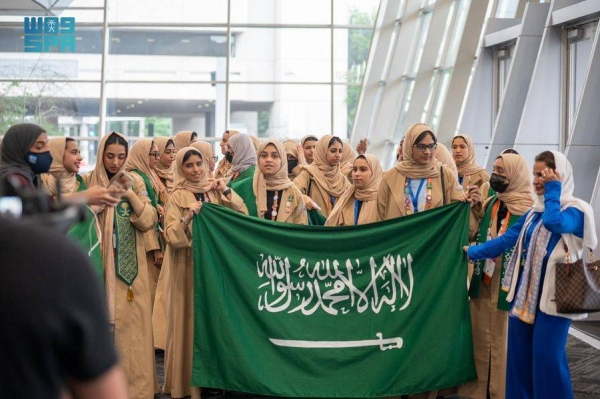 Princess Reema: Saudi delegates to ISEF 2023 are ambassadors of their country
Saudi Arabia's Ambassador to the United States Princess Reema bint Bandar held a virtual meeting with the Saudi science and engineering team participating in the Regeneron International Science and Engineering Fair (ISEF) 2023. A total of 35 outstanding Saudi boy and girl students are participating in the event.
Addressing the students remotely, Princess Reema noted that the students are ambassadors of their country. She highlighted the importance of representing the country in a way that befits the name of the Kingdom. Princess Reema expressed her pride over the arrival of Saudi students to participate in this competition. "Success and winning are two different things, and you have succeeded in reaching this stage, and not winning prizes does not mean that you did not become successful," she said.

Princess Reema advised the students to show the Kingdom's culture and the goodness of its people by dealing with different peoples. "Prove your excellence in all circumstances, as elegance in dealing is as equal as achieving excellence in science, knowledge, and scoring achievements. A good person is not in his work, but in his behaviors," she highlighted. The ambassador thanked the scholarship students who came forward to volunteer in support of their colleagues during the last edition of the ISEF.

The Regeneron ISEF 2023, the world's largest pre-college STEM competition, started at the Kay Bailey Hutchison Convention Center in Dallas, Texas, on May 14 and will conclude on 19 this month. The Saudi science and engineering team are competing with 1,800 students, representing 70 countries. They were chosen from among 40 winners of the major prizes in the National Olympiad for Scientific Creativity (Ibdaa) 2023. The Regeneron ISEF finalists are competing for nearly $9 million in awards, prizes and scholarships.