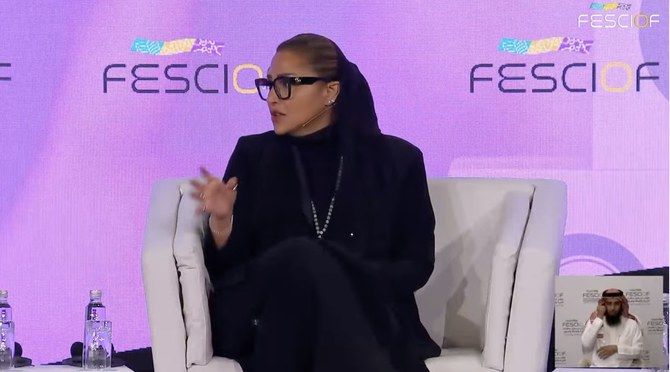 Partnership with business 'key' to reaching sustainable economic future, forum told
Partnership is key to get business on side with the UN's sustainable development goals and boost social responsibility, panelists at a forum in Riyadh have said.
Princess Lamia Bint Majed Al-Saud, Secretary General at Alwaleed Philanthropies, said at the Future of Education, Science and Culture forum that her organization had helped more than a billion people in 190 countries, a feat it could not have achieved without working with others.

"Our line of work needs partnership, it is a key to success," she said. "Partnership is our model, we reached 1.2 billion beneficiaries around the world, we cannot do this alone."

She said partners, especially international entities, help in reaching the UN's 2030 SDGs, as the basis of each can "differ from nation to nation and from community to community."

Princess Lamia added that focusing on who to target, what the goal is and whether awareness was being created were important. "[Alwaleed Philanthropies] achieved 100 percent of the 17 SDGs," she said. "I believe you need to understand how international entities work, and you need to be very specific."

The UN's SDGs are a set of global goals aimed at addressing the world's most pressing challenges and achieving a sustainable future. The SDGs cover a wide range of issues, from ending poverty and hunger, to promoting gender equality, ensuring access to quality education, and combating climate change.

She said designated teams should be able to "talk the same language. Dealing with a local entity is completely different from other international entities."

Khalid Alzamil, Vice-President of Public Affairs at Aramco, said that businesses were willing to help to improve the sustainability of modern living.

"Corporations want to be good global citizens. They want to do good in their communities in order to succeed," he said.

He said that there needed to be rules of engagement in collaborations. "This will help align on who does what, and from there you need sustainability of the partnership," he said.

Alzamil added that Aramco has internal training centers that have helped the firm hit a couple of SDGs, as well as helping people access "higher education, get jobs and enable the economy."

Carl Manlan, a Vice-President at Visa dealing with sustainability, said that partnership was "at our core."

Rather than just looking at it from a public and private sectors' perspective, he said, corporations should see how relationships can also enable commerce.

He said that demands from younger generations that corporations help their communities was changing how companies operate in terms of achieving the 17 SDGs.

The discussion, titled "Aligning Private Sector Activities and Investments with the UN 2030 Sustainable Development Goals," was moderated by Rawan Radwan, a journalist at Arab News.