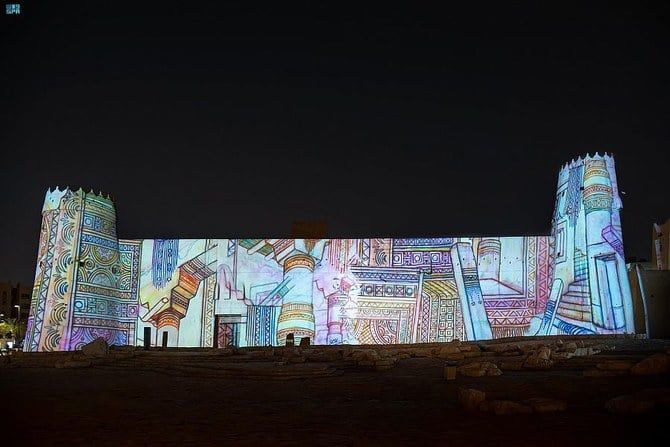 Noor Riyadh art festival returns bigger, bolder
Riyadh will become a haven for culture lovers next month with the second year of a festival bringing together more than 100 Saudi and international contemporary artists.
The Noor Riyadh Festival will run from Nov. 3 to 19 with the title "We Dream of New Horizons," featuring art from over 40 countries and more than 100 artists, a third of them from the Kingdom.

This year's festival will be three times bigger than past events with at least 40 locations and in excess of 500 activities, including artistic and cultural seminars, and workshops by experts that can be attended in person or virtually.

It will also include an accompanying exhibition in JAX District in Diriyah, for three months starting from Nov. 3 until Feb. 4, taking visitors on an artistic journey of creative light transformation in the past and future.

Noor Riyadh 2022 is part of Riyadh Art, one of the four major projects launched by King Salman in 2019, under the leadership and supervision of Crown Prince Mohammed bin Salman, to transform Riyadh into an open art exhibition that mixes tradition and modernity.

Prince Badr bin Abdullah bin Farhan, board member of the Royal Commission for Riyadh and chairman of the steering committee of the Riyadh Art program, said Noor Riyadh aimed to support creativity, embrace national and international talent, and create opportunities for Saudi artists to present their work.

The prince noted that Noor Riyadh's slogan connoted positivity and optimism, and reflected confidence in the renewal and transformation that the Kingdom was witnessing.

This year's festival will be held under the supervision of a group of local and international curators, including Dorothy Di Stefano, Irvi Mikhailov, and Jumana Al-Ghouth, in addition to the curators of accompanying exhibitions Neville Wakefield and assistant curator Ghaida Al-Muqrin.