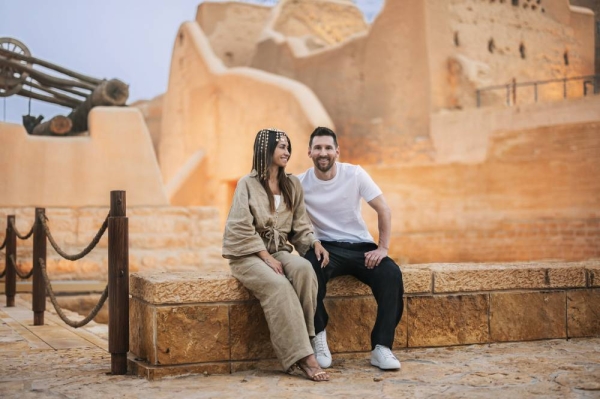 Messi tours historic Al-Turaif neighborhood in Diriyah
The Argentinian international football star Lionel Messi and his family toured the historic Al-Turaif neighborhood in Diriyah, Riyadh on Tuesday.
Messi, captain of the Argentinian national team that won the 2022 FIFA Qatar World Cup and the tourism ambassador of Saudi Arabia, appeared with his family in the historic city of Diriyah, and he was photographed in the famous Al-Turaif neighborhood.

Messi, his wife Antonela Roccuzzo, and their sons - Matteo and Siro - spent the first day of their holiday visiting an authentic Saudi farm, away from the hustle and bustle of the city. They watched a palm-weaving demonstration against the backdrop of the majestic trees, which are a symbol of prosperity in Saudi Arabia.

The Messi family enjoyed playing with and feeding the Arabian gazelle. The animal is part of an ambitious rewilding programme, reintroducing Arabian gazelles, oryx and the Arabian leopard at wildlife reserves across the country.

Minister of Tourism Ahmed Al-Khateeb, said in a statement on his Twitter account: "Welcome Messi to the land of tradition and the origin of history: Diriyah, on an enjoyable tourist tour that included various experiences with his wife Antonella and his sons Matteo and Siro, where he met the generous and hospitable Saudi people in the Al-Turaif neighborhood."

Messi arrived in Riyadh on Monday along with his family for his second visit to the Kingdom as Saudi Tourism Ambassador. In May 2022, the Saudi Tourism Authority (STA) announced that the Paris Saint-Germain footballer is its new official brand ambassador.

Messi toured Historical Jeddah and enjoyed the Red Sea during his first visit to Saudi Arabia one year ago. Saudi Arabia appointed Messi as its tourism ambassador last year, and he visited Jeddah in May 2022, then returned to play a friendly match that brought together Saint-Germain and a group of Al-Nasr and Al-Hilal stars, before recording his second tourist visit to Saudi Arabia.